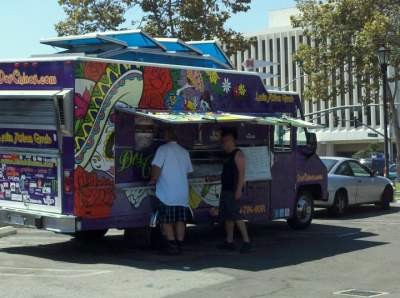 Santa Ana leaders are once against considering options to regulate the catering and produce vending trucks that dot city streets and offer everything from heads of lettuce to tacos and gummy worms, according to the Voice of OC.
Apparently state and federal courts in the past ruled that previous city laws went too far and unfairly restricted the businesses.
Why is the Santa Ana City Council so upset with these food trucks?  "City officials say they are prime targets for graffiti, produce a glut of trash and litter, are known to sell cigarettes, and block views at crosswalks and intersections."  
I have to call B.S. on all of this.  If the consumers did not support the food trucks they would go away so clearly the residents want the trucks in their neighborhoods.
So why is the City Council really going after the food trucks?
I am guessing that this is an effort by union supermarkets to take back market share – and we know the City Council is beholden to the unions.
You can't tell people what they can or should eat.  That is their business.  So the City Council can cry about health all they want but ultimately they would be better off supporting efforts to educate the public rather than trying to destroy the food trucks.
Food truck owners are mostly Hispanic and they are the ultimate small businesses.  The owners use their profits to pay their bills and put their kids through school.  Picking on these small businesses is not something our City Council should be doing.
I wish the City Council would focus on making our city more friendly to businesses instead.
Besides we know for a fact that Council Members Tinajero and Martinez really like to blow large amounts of money on gourmet food, often at public expense.  Shouldn't they police their own eating habits before they try to legislate ours?