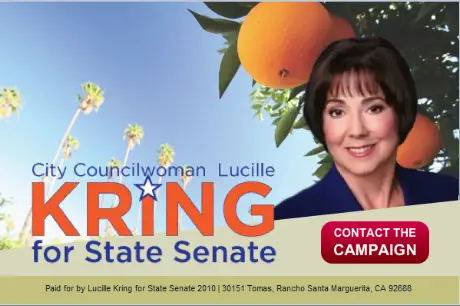 Lucille Kring is the Anaheim Councilwoman who is challenging popular State Senator Lou Correa over in the 34th State Senate District.  She is a Republican.
Kring's Anaheim City Council page includes a lot of information about her, including a bio.  Here are a few excerpts:

Lucille Kring was re-elected to the Anaheim City Council in November, 2006 after a four-year absence. Kring also served as a City Councilmember from 1998-2002.

Kring is a graduate from Western State University College of Law with a J.D. degree in Law. She practices in the field of labor, employment contract and real estate law. She also has a real estate broker's license and a B.S. degree in Chemistry.
Kring won a seat on the Anaheim City Council in 2006, defeating incumbent Councilman Richard Chavez.  Bob Hernandez also won a seat on that council in 2006, according to Smart Voter.
Kring ran for Mayor of Anaheim in 2002, losing to Curt Pringle by just over 4,000 votes, according to Smart Voter.  She won a seat on the Anaheim City Council way back in 1998, when she was the top vote-getter, with 24.8% of the vote, according to Smart Voter.
Kring also won a seat on the OC GOP Central Committee, back in 2006.
Kring owns a wine bar called Pop the Cork, which opened a couple of years ago at the Anaheim Gardenwalk.
Can Kring beat Correa?
Kring got more votes than Correa.  And he damaged himself last year by voting for a tax increase, during a time of high unemployment and recession.
Here is what Kring has to say about the issues, on her campaign website:
JOBS: Times are tough and the Sacramento politicians don't understand the problems faced by families struggling in this economy. As a small business owner here in central Orange County, Lucille Kring knows what it takes to create jobs and improve our economy. Kring is fighting for lower taxes and fewer regulations, so businesses can thrive and start hiring again. She'll take her knowledge to the State Capitol and use it to bring jobs and opportunity back to our community.

TAXES & SPENDING: Councilwoman Lucille Kring is a champion for taxpayers who is working hard to force local government to live within its means. As our new State Senator, Kring will insist that the spending spree stops and the budget debt is erased. The Howard Jarvis Taxpayers Association supports Lucille Kring in this election because she is the only candidate we can trust to never raise our taxes.

SCHOOLS: Local schools are suffering while the state's education bureaucracy in Sacramento thrives. As our new State Senator, Lucille Kring will introduce a bill to make sure that at least 75 cents of every dollar spent on education in this state goes directly to the classroom. More money for kids and teachers – and less for bureaucrats – will mean a better future for our children.
Click here to see Kring's list of endorsements, which includes the Howard Jarvis Taxpayers Association.