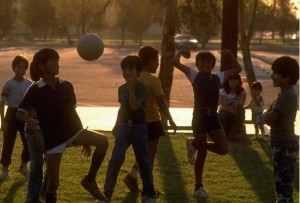 Nothing sums up the "go to meetings, we know better than you" culture of Santa Ana's infamous "Usual Suspects" quite like the "5-on-5" rules governing pick-up soccer games in our city's parks.  Well thanks to Councilman Sal Tinajero the City Council's Parks, Recreation, Education and Youth Committee has taken a new look at the ordinance and is going to send it packing, much like the council did to the "Usual Suspects" who used to infect our city commissions.
The ordinance, which was pushed through doing the "Usual Suspects" heyday, limits the number of people that can play soccer in our parks to teams of 5 to a side.  Traditionally soccer consists to 11 players on each team, but in soccer-crazy Santa Ana that is illegal in our parks!  Somewhere former councilmember and anti-Chivas USA activist Tom Lutz is still smiling at the thought of the "5-on-5" rule.
According to the O.C. Register's Andrew Galvin, the ordinance came to Councilmember Tinajero's attention when he saw one of our City Park Rangers break up a soccer game because the number of players exceeded the ridiculous, and racist, "5-on-5" rule.  Tinajero found out from the Park Ranger that a nearby neighborhood association had called and complained about the soccer players.  To be clear, most of these neighborhood associations are nothing more than madrasas for "Usual Suspects."  Some people join the neighborhood associations with good intentions but sooner or later most of them end up siding with the haters.
Ironically the "Usual Suspects" scream "open space" and "parks" whenever they oppose certain projects.  Yet when our residents, particularly our Latino residents, try and use existing parks and open space, the "Usual Suspects" want ordinances that prevent their Latino neighbors from doing so.  These are the same folks that support having an exclusive lawn bowling facility in a city park over open space that can be enjoyed by all of our residents.
It is time that we scour the books and look for all the other ordinances put forward by the "Usual Suspects" and the Lutz era city councils.  You can be sure that the "5-on-5" rule isn't the only ridiculous one that we need to get rid of.  This current council owes it to the residents of Santa Ana to undo the damage caused by Lutz and company and eliminate their petty "Usual Suspect" rules and regulations.
The City Council's Parks, Recreation, Education and Youth Committee met today at 4:30 p.m. in room 831 at City Hall, 20 Civic Center Plaza, and I am hearing that they are going to recommend that the Santa Ana City Council revise, if not abandon, the "5-on-5" rule.  Thank you Councilman Tinajero for standing up for your constituents!