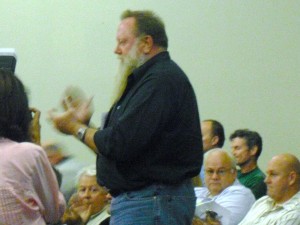 Mike Harrah can start building his One Broadway Plaza Tower now!
"The 4th District Court of Appeal last week reversed an Orange County Superior Court ruling that had put a stop to the construction of One Broadway Plaza, a 37-story office tower in Santa Ana that voters approved in 2005," according to the Voice of OC.
The  Appellate Court decided that the voters voted for a zoning ordinance, not for a development agreement.  What this means is that developer Mike Harrah can finally start building his One Broadway Plaza tower.   That means over two thousand union construction jobs are on the way.
This is good news for the City of Santa Ana – and for our Downtown area.  The NIMBY Usual Suspects won't be too pleased.  Good.  I hope they lost a lot of money mounting their case.  They were recently celebrating the now overturned decision – and were gloating about sticking the people of Santa Ana with their legal bill.  Not anymore!
Now more than ever the Usual Suspects, who in this case filed suit as the "Coalition for Accountable Government Ethics," are absolutely dead in the water in the town they used to rule.  Give it up folks.  Your days of calling the shots in Santa Ana are over.
UPDATE: The City of Santa Ana has issued a release regarding this court decision:
Advisory: The Fourth District Court of Appeal Issues an Opinion In favor Of the City's Action In 2010
On December 2, 2011, the Fourth District Court of Appeals issued an opinion that upheld the City's actions from 2010 that amended the One Broadway Plaza project.
In August 2010, the City Council had revised certain requirements for the project in an effort to spur growth, encourage investment and create jobs. However, the Coalition for Accountable Government Ethics (CAGE) challenged this decision, saying that it required the approval of voters.
Friday's decision proved the court disagreed with CAGE. "The City's contention has merit," wrote Justice Kathleen O'Leary in the unanimous decision.
The City Council approved the One Broadway Plaza project in 2004. The project was reaffirmed by 56.6% of Santa Ana voters in 2005.
At 37 stories, One Broadway Plaza would be the tallest building in Orange County. It is estimated to create 2,900 jobs and pump $150 million into the local economy.
Mayor Miguel Pulido hailed Friday's opinion. "The City Council took bold steps to create opportunity and jobs – and the voters have agreed. It's gratifying that the Court of Appeal upheld these efforts."
For details regarding the court's decision, go to: http://www.courtinfo.ca.gov/opinions/nonpub/G045770.PDF
For additional details, click here.
Sent by City of Santa Ana, 20 Civic Center Plaza, 8th Floor/ P.O. Box 1988, Santa Ana, CA 92702.