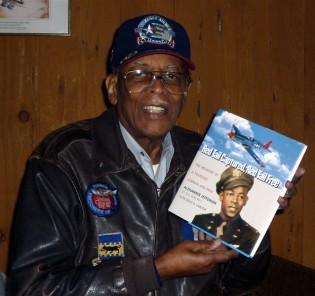 Feb. 20 – Book Signing; Tuskegee Airman Lt. Col. Alexander Jefferson
Posted on February 15, 2011 by Jarco
February 20, 2011
'RED TAIL CAPTURED, RED TAIL FREE: THE MEMOIRS OF A TUSKEGEE AIRMAN AND POW'
SANTA ANA, Calif.—Famed Tuskegee Airman and author Lt. Col. Alexander Jefferson, 90, a retired U.S. Air Force officer who currently resides in Southfield, Mich., will be signing copies of his book "Red Tail Captured, Red Tail Free: The Memoirs of a Tuskegee Airman and POW," on Sunday, Feb. 20, from 12 noon to 2 p.m. at Lyon Air Museum, located on the west side of John Wayne Airport.
The Tuskegee Airmen, the popular name of a group of African American pilots who fought during World War II, were the first black military aviators to serve in the United States armed forces. Jefferson's book is a personal memoir about black soldiers who served their country during and after World War II.
"Lt. Col. Alexander Jefferson is an American treasure, and we're proud to have him join us to share his experiences," said Mark Foster, president of Lyon Air Museum, a premier Southern California showcase for vintage military aircraft and automobiles. "His saga is nothing less than the story of our nation in the 20th century."
Born Nov. 15, 1921 in Detroit, Mich., Jefferson was the eldest child of Alexander Jefferson and Jane White Jefferson. His maternal great-grandfather William Jefferson White was born to a slave woman and a white slave owner in the 1830s. Jefferson's grandfather became a minister, and in 1867 he opened an all-black ministry school for boys in Augusta, Ga., which today is known as Morehouse College.
Jefferson graduated from high school in 1938. In 1942, he graduated from Clark College in Atlanta, Ga., with a bachelor of science degree in chemistry and biology.
On September 23, 1942, Jefferson was sworn into the U.S. Army Reserves, volunteering but not accepted for flight training. Taking a job as an analytical chemist for three months, he entered the graduate school of Howard University, applying again to the U.S. Army Air Force.
Called up for flight training in April 1943, Jefferson received orders to report to Tuskegee Army Air Field to begin flight training.
In 1941, in an effort to train black aviators, the U.S. Army Air Corps established a training program at the Tuskegee Institute, a private, historically black school located in Tuskegee, Alabama. The army used Moton Field, four miles from the campus center, to train aviators, who became known as the Tuskegee Airmen. (The campus of Tuskegee Institute was declared a National Historic Landmark in 1965. In 1985, Tuskegee Institute was renamed Tuskegee University.)
The Tuskegee Airmen initially were equipped with Curtiss P-40 Warhawks fighter-bomber aircraft, briefly with Bell P-39 Airacobras, later with Republic P-47 Thunderbolts. In July 1944, the fighter group acquired the aircraft with which they became most commonly associated—the North American P-51 Mustang. When the pilots of the 332nd Fighter Group painted the tails of their P-47s red, the nickname "Red Tails" was coined. Bomber crews adopted the nickname "Red-Tail Angels."
Receiving his pilot's wings and officer's commission at Tuskegee, Jefferson was assigned to the 332rd Red Tail Fighter group at the Ramitelli Airfield near Foggia, Italy, flying the P51 Mustang. In a fighter escort wing protecting bombing missions of the U.S. 15th Air Force, his job was to attack key ground targets and guard the bombing mission against enemy Luftwaffe fighters.
Jefferson was shot down on August 12, 1944, while attacking a radar installation during his 18th mission over Toulon in southern France. Parachuting to safety and landing in a forest, he was immediately captured by German ground troops. He was sent to a German prisoner of war (POW) camp in Poland called Stalag Luft III, a specialist Luftwaffe-run camp for captured Allied Air Force personnel. He was then moved to Stalag VII-A, just outside Dachau. After the Russian Army entered Poland, the Germans marched the prisoners to Munich, where they were freed by Gen. George Patton's U.S. Third Army. Jefferson returned to the United States on board the Cunard liner RMS Queen Mary, arriving in New York City in mid-1945.
But his homecoming was bittersweet. In his book, Jefferson recalls that, despite having been treated in Nazi capture like every other Allied officer, he personally experienced racial prejudice immediately upon his arrival back in the U.S. After coming into New York harbor past the Statue of Liberty, flags waving, he walked down the ship's gang plank only to be greeted by a white U.S. Army sergeant on the dock shouting a deeply offensive term for African Americans.
Following the war, Jefferson served as an instrument instructor at the Tuskegee Army airfield until its closure in 1946. He remained in the U.S. Air Force reserves until his retirement in 1969.
As a civilian, Jefferson received his teaching certificate from Wayne State University in 1947 and began teaching elementary school science for the Detroit Public School System. He received his master's degree in education in 1954, and was appointed assistant principal in 1969. After more than 30 years of service in the field of education, he retired in 1979.
In 1995, Jefferson was enshrined in the Michigan Aviation Hall of Fame. In 2004, Jefferson was awarded with a Purple Heart for being wounded while being shot down over Nazi occupied France. On March 29, 2007, Jefferson attended a ceremony in the U.S. Capitol rotunda, where he and the other surviving veterans of the Tuskegee Airmen and the widows of airmen no longer with us were awarded the Congressional Gold Medal in recognition of their service.
During World War II, African American citizens in many U.S. states still were subject to racist Jim Crow laws. The American military was racially segregated, as was much of the federal government. The Tuskegee Airmen experienced racial discrimination, both within and outside the U.S. Army. Despite these adversities, they trained and flew with distinction. Although the 477th Bombardment Group "worked up" on North American B-25 Mitchell bombers, they never served in combat. The Tuskegee 332nd Fighter Group was the only actual operational unit. First sent overseas as part of Operation Torch, they were put into action in Sicily and Italy before being deployed as bomber escorts in Europe, where they were particularly successful in their missions.
The 30,000-sq.ft. Lyon Air Museum opened in Dec. 2009. The facility represents the fulfillment of a dream of Maj. Gen. William Lyon, USAF (Ret), who held the position of Chief of the U.S. Air Force Reserve from 1975 to 1979. Currently, Gen. Lyon is Chairman of the Board and CEO of William Lyon Homes, Inc., Newport Beach, Calif. His passion for aviation history and youth education is the driving force behind Lyon Air Museum. In establishing the museum, Gen. Lyon sought to create a world-class facility that would be available to the local community and would offer educational displays to inspire young people. The museum has on exhibit some of the world's rarest operational aircraft and vehicles.
Lyon Air Museum is located at 19300 Ike Jones Road, Santa Ana, CA 92707. P: 714/210-4585. F: 714/210-4588. Email: info@lyonairmuseum.org Web: www.lyonairmuseum.org.
Hours of operation are daily from 10 a.m. to 4 p.m. Admission rates: General admission–$8; Seniors and Veterans–$6; Ages 5-17–$4; Under age 5—Free. Groups of 10 or more–$1 off each visitor. Pre-arranged school groups—Free.
Media Contact: Ned Madden
Rodheim Marketing Group
949/547-0143