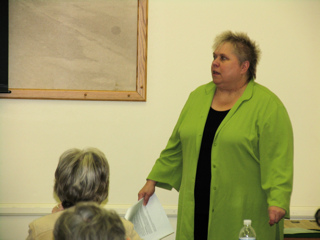 Kindee Durkee photo by Henry V
Kinde Durkee of Burbank-based Durkee and Associates, a prominent Democratic campaign treasurer who works for federal, state and O.C. lawmakers including U.S. Sen. Dianne Feinstein. Rep. Loretta Sanchez and state legislators Lou Correa and Jose Solorio, has been arrested by the FBI on suspicion of mail fraud, according to The Orange County Register.
State Sen. Lou Correa of Santa Ana told the Register the FBI notified him late Friday that he was one of many victims. Correa said he believes he has lost hundreds of thousands of dollars in campaign funds. Durkee had been his campaign treasurer since 1995, according to the Huffington Post.
Correa quickly posted a response on Facebook:
Friday afternoon, on my way home from the airport, I received a phone call from an FBI agent. At first, I thought it was some kind of a sick joke. The FBI agent informed me that my campaign treasurer, the person whom I had trusted, throughout my political career, had just been arrested for embezzlement, and that my campaign bank account, among many others, was part of the investigation. I was numb.

I got home, and as I put my briefcase down, I felt a small person jump on my back and whisper to me, "Welcome home daddy, I missed you." It was my eleven year old daughter. At that moment, I was reminded of what counts in life, and what is important in life, family and health.

My losses will pale, in comparison to what many of my friends, neighbors are experiencing in these hard economic times, job losses, home foreclosures and many other financial tragedies.

Yet, this was a horrible betrayal, not only of the elected leaders who entrusted a longtime professional to safeguard everything we've built and saved throughout our careers, but also of the countless number of constituents who have sacrificed to support our campaigns so that we could be their voice in Sacramento.

And while I am saddened, I am also now more determined than ever, to continue to fight political corruption, these are hard times for all of us. And while, we push to create jobs for Californians, we must also redouble our efforts to assure that the "Bernie Madoofs" and Cities of Bell" among us are put out of business.

As a candidate for future office, this event represents a major financial setback. Yet, this event also reminds me, that in the "early days," we were always "outspent and outgunned," yet we always managed to win.

Our formula, then, now, and will always be the same: hard work.
We still don't know what Durkee did, but Correa seems to believe that he is going to lose a ton of campaign money.  Correa mentioned Bernie Madoff in his comment, leading me to believe that a lot of Democratic politicians may have lost campaign money in this fraud case.
Lou Delgado, a photographer who works with many Democratic officials, believes that many vendors will not get paid, by the many politicians allegedly ripped off by Durkee.
One Democrat who won't sweat this is Santa Ana Councilwoman Michele Martinez, who is the leading candidate to replace the termed out Solorio in the 69th Assembly District.  Martinez uses David L. Gould as her Campaign Treasurer.  Delgado agreed that Gould stands to pick up a lot of business now.
Gould works out of an office in Los Angeles.  Another well-known campaign treasurer, Lysa Ray, has an office in Santa Ana.  However if you look at her client list is is dominated by Republicans, and a few questionable Democrats including Jordan Brandman and Lorri Galloway. Her Republican clients include Curt Pringle; Ken Maddox; Jim Righeimer; a bunch of Van Tran's "Trannies," including Dina Nguyen, Tri Ta and Tyler Diep; and the Tea Party PAC.