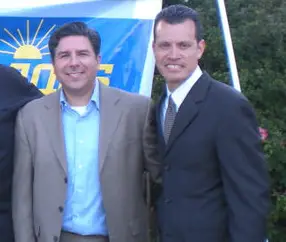 Santa Ana Mayor Pro Tem Claudia Alvarez has faced a withering attack this week, even though she has already apologized for her ill-chosen analogy, comparing developer and landlord Irv Chase, who it turns out is Jewish, to Adolf Hitler.  She might have made it through this mini-storm if her colleagues had stuck by her but I don't think any of them are willing to take a stand for her.  It has as such become increasingly likely that she may step down as Mayor Pro Tem, although I suspect that she will remain on the Santa Ana City Council.
This could happen at the next Santa Ana City Council meeting on Sep. 6.  Council Member David Benavides and his Republican amigo, Carlos Bustamante, have placed an 85A item on the Council Agenda, targeting Alvarez.  
How soon they forget.  Bustamante already had a whack at this and he was so awful that his peers took away the title and handed it back to the far more capable Alvarez.  And the sad fact is that Alvarez totally supported Bustamante in 2006, when he ran for reelection.  Now he has turned on her.  You just cannot work with Santa Ana's Republicans.
We learned that last year when Bustamante held a fundraiser at his home for Mexican-bashing Republican Van Tran, who was running against Congresswoman Loretta Sanchez.  That backfired on Bustamante when Sanchez trashed Van Tran.
I think Bustamante is using Alvarez as a scapegoat to distract us from the fact that he is being investigated for ripping off the O.C. taxpayers by accepting unmerited and possibly illegal raises, as an overpaid Orange County middle manager.
As for Benavides, this is payback for the Council going after him when he honored Lupe Moreno and her Minuteman pals last year, after they took over the Santa Ana 4th of July event, where one of them referred to Santa Ana residents as "wetbacks."
We also caught Benavides partying with Al Amezcua on Election Night last November.  That backfired when Mayor Miguel Pulido utterly trashed Amezcua on Election Night.
Bustamante and Benavides go way back.  They flew together and roomed together a few years ago when President Bush invited them to a GOP Cinco de Mayo event.  Benavides has more Republican friends than Democrats. He attended Biola University and is close with one of their Trustees, former SAUSD Trustee Rosie Avila – another immigrant bashing Republican.
I suspect that the next Mayor Pro Tem will be either Sal Tinajero, Michele Martinez or Vince Sarmiento.  They are all very capable.
Will Alvarez step down as Mayor Pro Tem?  If she does it will be a testament to her dedication to the people who voted for her.  She realizes that this is all becoming a major distraction.  By stepping down as Mayor Pro Tem she will ensure that the Council can get back to work – and she will renew her investigation of Chase and his dealings.  That said, I hope she remains firm and continues to fight.
Alvarez has by the way tried to apologize to the Chase family.  She asked Rusty Kennedy to facilitate a meeting.  The Chase family won't respond.  They obviously are enjoying going after her.
Here is the 85A agenda item:
CITY COUNCIL AGENDA ITEM
Pursuant to Santa Ana Charter Section 411, any member of the City Council may place items on the City Council Agenda to be considered by the City Council.
85A CONSIDER POTENTIAL VIOLATION OF THE SANTA ANA CODE OF ETHICS AND CONDUCT BY COUNCILMEMBER AND TAKE REMEDIAL ACTIONS RELATED THERETO (COUNCILMEMBERS BENAVIDES AND BUSTAMANTE)
The following actions may be considered on the floor and include:
1. Ask for resignation from the City Council.
2. Remove from the Mayor Pro Tem position.
3. Remove from the Public Safety Committee.
4. Remove from the Orange County Water Board.
5. Condemnation of comment made by Councilmember
We are stuck with Benavides for a few years but we can boot Bustamante off the Council next year…