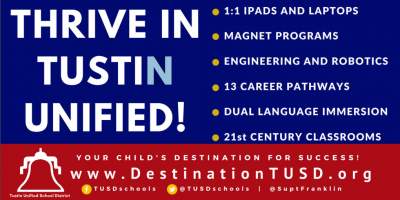 TUSD Accepting Student Transfer Requests for 2018-19 School Year
The Tustin Unified School District will accept transfer requests between Monday, January 22, at 8 a.m. and Friday, February 9, at 3 p.m. from elementary, middle and high school students for the 2018-19 school year.
Transfer requests can be made online from the TUSD website or on paper at TUSD's Student Services Office. All applications submitted during the transfer period will be processed according to a random and unbiased process based on space availability. Notification of acceptance or denial will be sent this spring.
All TUSD schools except Beckman High School will accept qualified transfer applications. All grades at Beckman High are closed to 2018-19 transfers; only students continuing their 2017-18 enrollment at Beckman will be approved.
The District offers a "Legacy of Academic Excellence" with a 98 percent graduation rate (83 percent of graduates attend college or university), small class sizes, seven National Blue Ribbon Schools, 24 California Gold Ribbon Schools, 24 California Distinguished Schools, STEAM (science, technology, engineering, arts and mathematics) programs, and 21st century classrooms with iPads for students in kindergarten through eighth grade and laptops for high school students.
TUSD student achievement exceeds county and state averages in English/language arts and mathematics on both the Scholastic Assessment Test (SAT) – standardized test for U.S. college admissions – and the California Assessment of Student Performance and Progress (CAASPP) – statewide standardized measure of student performance.
Tustin Unified also has a K-12 robotics league and competitions, Spanish dual language immersion program, magnet programs, elementary music program, 13 career pathways, Tustin Connect online independent study program for grades K-12, award-winning performing and visual arts programs, CIF-recognized athletic programs and sports facilities, and specialized high school programs, such as the Early College Program, International Baccalaureate (IB) and Model United Nations.
For specific information regarding transfers, visit the TUSD Website at www.tustin.k12.ca.us and select the "Schools" tab to locate the Student Transfers link or visit the Student Services Office in Building G at the TUSD Administration Center, 300 South C Street in Tustin. For more information, call (714) 730-7301, ext. 51317.
Parents can also get up-to-date information regarding transfers on Twitter: @tusdtransfers and Instagram: tusdtransfers.