SANTA ANA, CA – Three people have been nominated as candidates for the Ward 6 City Council office designated to be filled if the recall of Councilmember Cecilia Iglesias is successful, Clerk of the Council Daisy Gomez announced.
The Special Municipal Election is to be held in the City of Santa Ana on Tuesday, May 19, 2020.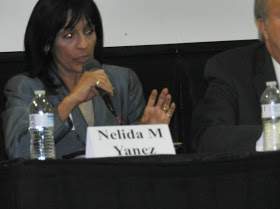 The qualified candidates and their ballot designations are:
The candidates all submitted qualifying paperwork by the 5 p.m., March 5, deadline. The candidate names as listed will be the official order on the ballot as determined by a randomized alphabet drawing conducted by the Secretary of State's Office on March 6.
If the recall should prevail, the winning candidate will serve the duration of the partial term ending Dec. 13, 2022.
The voting period for the Special Municipal Election will be from May 9, 2020, through May 19, 2020, at select Vote Centers. On Election Day, May 19, 2020, select Vote Centers will be open between 7 a.m. and 8 p.m.
The following are key dates for the May 19, 2020, Special Election:
• Public Review for Candidates' Statement of Qualifications – March 6, 2020, through March 16, 2020
• Write-in Candidacy Filing Period Opens – March 23, 2020
• Last Date to Register to Vote – May 4, 2020
• Write-in Candidacy Filing Period Closes – May 5, 2020
• Select Vote Centers Open – May 9, 2020
• Election Day – May 19, 2020
• Deadline to Certify Election Results – June 18, 2020
Eligible Santa Ana residents can register to vote, check and update their voter registration status, and request a vote-by-mail ballot at https://www.ocvote.com.
For more information on the Santa Ana special election, please visit https://www.santa-ana.org/cc/city-elections and https://www.ocvote.com/vc/web/voting/current-election-information/city-of-santa-ana-special-recall-election.