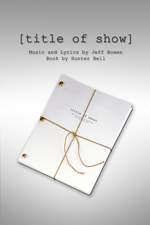 OR IMMEDIATE RELEASE: January 2, 2013
THEATRE OUT TO OPEN 2013 SEASON WITH ORANGE COUNTY PREMIERE OF THE MUSICAL "[title of show]"
Santa Ana, CA (01/2/2013) – Theatre Out, Orange County's gay and lesbian theatre company is thrilled to open their 2013 season with the Orange County premiere of the smash hit [title of show] beginning January 11, 2013.
[title of show], with music and lyrics by Jeff Bowen and book by Hunter Bell, follows Jeff and Hunter as they try to create an original musical in less than three weeks with the help of their friends Heidi and Susan. It's a musical about two guys trying to write a musical about two guys trying to write a musical and it unfolds in front of the audience as it is happening. Will they be able to write a new and exciting musical without resorting to the "tricks of the trade"? Touching, heartfelt, kooky and hilarious, [title of show] is a tribute to friendship and a love letter to the American musical.
[title of show] has been heralded by the New York Daily News as "Terrific! A kick-ass time!" And Entertainment Weekly called it "sly, sassy, inspired."
"What I love about [title of show]," commented the show's director Tito Ortiz, "Is that beneath its hilarious exterior, there is a show about four friends who come together to create a piece of art and end up becoming a family in the process."
David C. Carnevale, co-founder of Theatre Out, commented, "[title of show] is the perfect show to open our 2013 season. It's funny and touching and shows the audience a slice of what it takes to create a work of art."
Under the direction of the award-winning director of last season's Dog Sees God, Tito Ortiz, and musical director Stephen Hulsey, the cast includes Spencer D Blair, Laura De Lano, Jaycob Hunter and Amanda Knight with Stephen Hulsey accompanying on the keyboard.
Tickets for [title of show] range from $20-$25 General admission and $20 for students with valid student ID and can be purchased exclusively at www.theatreout.com or at the Box Office on the night of the performance based on availability. All performances are at The Empire Theatre located at 202 N. Broadway in Santa Ana's Artist Village. Peformances begin January 11, 2013 through February 23, 2013; Fridays and Saturdays at 8:00 pm with select Thursdays at 8:00pm.
In addition to [title of show], Theatre Out's 2013 season includes the musical FALSETTOS, SLIPPING* by Daniel Talbott, Tennessee Williams' epic masterpiece ORPHEUS DESCENDING*, a very SORDID comedy by Del Shores that we can't quite announce, the hit Broadway musical KISS OF THE SPIDER WOMAN and the return of the audience favorites THE ROCKY HORROR SHOW* and LAST CHRISTMAS I GAVE YOU MY HEART BUT THE VERY NEXT DAY YOU SAID YOU WERE GAY.
*Rights Pending. All productions are subject to change without notice.
PLEASE NOTE NEW BOX OFFICE NUMBER: (714) 220-7069
Press inquiries should be made to David C. Carnevale, Managing Diretor at david@theatreout.com or by calling (714) 220-7069.