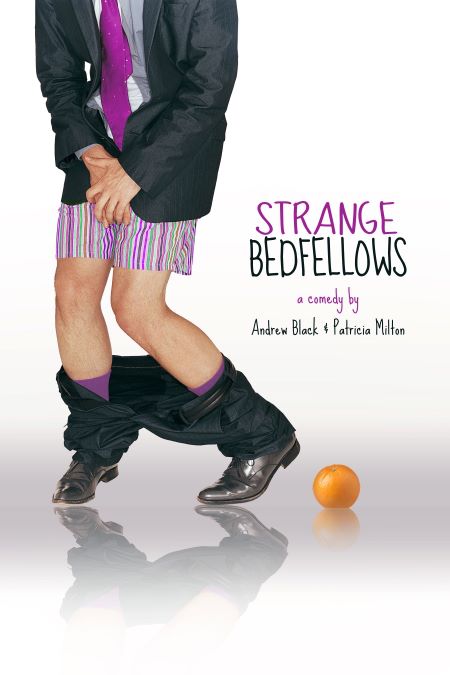 FOR IMMEDIATE RELEASE: August 1, 2012
THEATRE OUT TO OPEN WORLD PREMIERE SCREWBALL COMEDY "STRANGE BEDFELLOWS"
Santa Ana, CA (8/1/2012) – Theatre Out, Orange County's gay and lesbian theatre company, who brought you hit productions of AVENUE Q and SPRING AWAKENING is pleased to present the world premiere of the screwball comedy STRANGE BEDFELLOWS beginning August 17, 2012. Running through September 8, this hysterical new comedy explores conservative politics in Orange County.
Inspired by the scewball comedy films of the 1930s and 1940s, STRANGE BEDFELLOWS follows the Orange County election for District Attorney. After a rather unfortunate incident involving a lightening bolt and an underwire bra, the Democratic Party in Orange County is desperate to find a candidate for District Attorney. After every other viable candidate turns down the nomination, Nathan Zimmerman, happily says yes. He's young, talented, idealistic, doesn't play by the book, passionate, liberal and gay – in other words, completely unelectable. His campaign manager, Antonio, is doing everything he can to paint Nathan as a centrist but Nathan would rather march with Dykes on Bikes down Costa Mesa Blvd than eat chicken paella with stuffy members of the Urban Development League. Just when Antonio has things under control, Orange County's answer to Ann Coulter arrives for a personal interview with Nathan and news that convicted murderer Fern "Mad" Mulligan" has escaped from prison and is on her way to campaign headquarters for help. In hot pursuit by two of Orange County's finest Sheriff Deputies, Fern just wants Nathan to explain to the world why she is innocent. Throw in a campaign intern who sees life as a feature film and playwrights Andrew Black and Patricia Milton truly prove that politics and Orange County make strange bedfellows.
"We are absolutely delighted to be presenting the world premiere of STRANGE BEDFELLOWS," commented Joey Baital, producer and Theatre Out co-founder. "This OC-centric play is hilarious with just the right amount of heart. The playwrights have really captured the spirit of Orange County in a way that the audience will be rolling in the aisles."
"We fell in love with STRANGE BEDFELLOWS several years ago and were waiting for just the right time to produce it," commented David C. Carnevale, producer and Theatre Out co-founder. "What better time than just prior to a major election? We know the audience will love this examination of Orange County politics."
Under the direction of Kevin Cordova the cast includes Theatre Out favorites Tito Ortiz, Nick McGee, Jeff Budner, Karen Wray and Icarus Zavala joined by Theatre Out newcomers Glenda Wright and Robert Purcell. The production has been designed by Joey Baital and David C. Carnevale.
Tickets for STRANGE BEDFELLOWS are $20 General admission and $15 for students with valid student ID and can be purchased at www.theatreout.com or at the Box Office on the night of the performance. All performances are at The Empire Theatre located at 202 N. Broadway in Santa Ana's Artist Village. Peformances begin August 17, 2012 through September 8, 2012; Fridays and Saturdays at 8:00 pm with select Thursdays at 8:00pm. Special discounted performances are available.
PLEASE NOTE NEW BOX OFFICE NUMBER: (714) 220-7069
Press inquiries should be made to David C. Carnevale, Managing Diretor at david@theatreout.com or by calling (714) 220-7069.
###