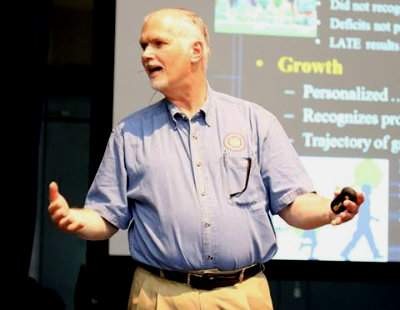 Rick Miller, the SAUSD's Superintendent, pulls down over $363K in pay and benefits per year, according to Transparent California. To put that into perspective consider that President Barack Obama, the leader of the free world, barely makes more than Miller, at $395K a year, according to PayWizard. And the median household income in Santa Ana is just over $53K, according to the U.S. Census. That means that Miller makes almost seven times what most Santa Ana households earn.
So Miller got paid, big time.  But he is dragging his heels about paying his teachers even though the SAUSD has a twenty million dollar surplus.  They are also blowing 24 million a year on consultants!
Many of the local teachers tell me their benefits are awful and they have to pay hundreds every month for those benefits.  Meanwhile the SAUSD School Board members get free health insurance on top of their substantial stipend.
Here's what folks need to remember – the teachers are the ones actually doing the teaching.  The SAUSD administrators and consultants don't teach our kids.  Neither do the School Board Members.
Reportedly the teachers got a raise last year after eight years of no raises and a pay cut in between.  They want a raise again – and point out the fact that teachers in Santa Ana make less than most teachers in other Orange County school districts.
The teachers' union, the SAEA, is making no headway with Miller and the SAUSD School Board.  The SAEA recently announced in one of their newsletters that "After today's bargaining session, it was made clear to us that the School Board has limited the District's Bargaining Team's ability to bargain salaries. Therefore, after 15 bargaining sessions, SAEA has declared Impasse and will file with PERB this afternoon."
The SAEA is asking teachers and their supporters to show up at the SAUSD School Board meeting on Oct. 13, 2015, at 3:30 pm to ask the School Board to support their plea for a pay increase.
Remember that our teachers work in awful circumstances here in Santa Ana, in often crowded classrooms that are under-supplied.  Many teachers use their own money to buy supplies!  Only 36% of our kids are literate – which must be very difficult to deal with.  And many households in Santa Ana are poor and don't have access to computers.  Moreover many of these households are led by parents who don't speak much English or by single parents.
We have a lot of great teachers in this community.  If the SAUSD wants to make cuts let them start with their administrators' bloated salaries and the millions they blow on consultants.  And they should cut the SAUSD School Board members benefits as well.