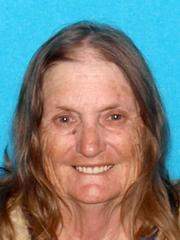 Santa Ana Police Department
Advisory: Family Sought for 79-Year-Old Female Involved in Serious Traffic Collision
Injured Party: Connie Gale Simms (79) Unknown
On Sunday, August 19, 2018 at approximately 11:43 a.m., the Santa Ana Police Department received several calls in regards to a vehicle versus pedestrian collision in the parking lot of Goodwill Industries located in the 2700 block of W. 5th St. The female was reportedly in and out of consciousness but breathing. Upon their arrival, Orange County Fire Authority (OCFA) personnel briefly treated the female at the scene before she was transported to UCI Medical Center for treatment.
The preliminary investigation has revealed from physical evidence and witness statements that the pedestrian, who was pushing a cart, was walking across the private parking lot in a marked crosswalk when she was struck by the vehicle. The motorist who was operating the vehicle was contacted at the scene and is cooperating with the investigation. Alcohol is not believed to be a factor in this collision.
SAPD is asking for media and the public's assistance; anyone who may know Connie Gale Simms or how to reach any family member is asked to contact the Santa Ana Police Department, Collision Investigations Unit at (714) 245-8200. Simms remains in the hospital in critical condition unable to provide Investigators any information.