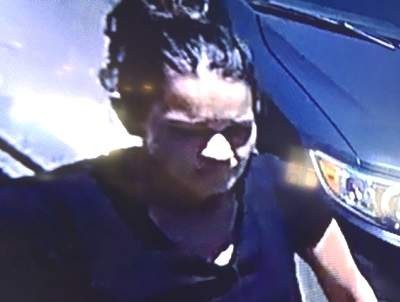 Santa Ana Police Department
Advisory: SAPD Property Crimes Detectives request assistance in identifying suspect committing theft of delivered package.
Suspect: Female-Hispanic, 20-25 years old, brown shoulder length hair, medium build, wearing a black V-neck tee-shirt, black tennis shoes. The suspect was last seen riding a purple or dark metallic mountain bike.
Summary: On 7-30-2015 at approximately 1:40 pm in the 1100 block of N. Linwood the female suspect is observed riding her bike up to the victim's doorstep and removing a United States Postal Service package that had just been delivered.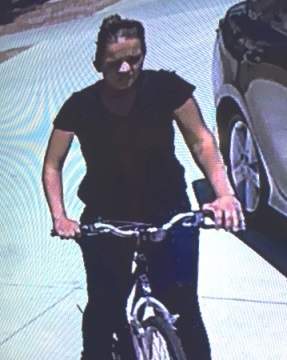 Anyone with information on the female suspect is asked to call Detective Verdugo at (714) 245-8345 or Orange County Crime Stoppers at 1-855-TIP-OCCS.
The Santa Ana Police Department recommends you consider a few tips to make sure your mail and packages stay safe and sound on your doorstep:
1. Track it -Using online tracking is one of the easiest and most convenient ways to keep an eye on any shipment. Most websites even include a specified time of drop off rather than just the day and they will also show you any delays or if they missed you that the item is held at a local facility for pickup.
2. Ask a Friend -If you know you'll either be out of the house or on vacation at the time of scheduled delivery see if a neighbor or friend can pick it up and hold it for you or put it in a designated hiding spot.
3. Leave a Note -Simply leave a note for the delivery man with instructions to either put it somewhere specific or even leave it at a neighbor's house.
4. Require a Signature -Requiring a signature which guarantees nothing will be left out in the open; the delivery man will leave a note saying they attempted to deliver so that you can choose whether to have them try again or pick it up from the specified location.
5. Have your Post Office Hold it- Another useful tip is you can actually ask your local post office to hold any deliveries there until you can go pick them at your own convenience. With this option they will often text or email you to let you know it's ready for pickup.
6. Don't Make it a Surprise -If you plan on sending any gifts or boxes let the person you are sending it to know it's coming so they can also plan ahead. Providing the receiver with the actual tracking information is also convenient.
7. Add a Wi-Fi Camera -If you have security cameras at home or have been having problems with package thieves, setting up a camera facing your door or walkway can help track any deliveries or activity.
8. Know the Minute it arrives -A great feature on several cameras is the motion and sound detection capability which can be configured to notify you via email or text any time one of your pre-set alerts is triggered. In the camera settings you can set up motion detection and pinpoint the specific area you want to track movement. You can also set it up to send a snapshot or video clip notification whenever motion is detected. When setting the sound detection, you are able to set the volume level for which you want to be notified if exceeded.
Surveillance Video: https://www.youtube.com/watch?v=lqenYVGqJSQ
###