Santa Ana Police Department
Advisory: SAPD DETECTIVES REQUEST PUBLIC & MEDIA ASSISTANCE IDENTIFYING PERSON COMMITTING SEXUAL BATTERIES
The crimes occurred in September 2015, October 2015 and January 2016 – all in the city of Santa Ana
The first assault occurred shortly after 11PM on September 4th, 2015. On this occasion, the suspect approached a lone female walking in the area of Raitt Street, south of McFadden Avenue. The suspect tried to engage the victim in conversation before he grabbed her, pinned her against a tree out of sight of passing cars, and began groping and sexually assaulting her. The victim scratched the suspect's face, yelled, and was able to escape before the assault escalated.
The second assault occurred in the parking lot of 3701 S. Bristol Street in Santa Ana, on October 7, 2015. Video of the incident shows the suspect following a lone female in the parking lot as she walks toward her car. When the suspect caught up to the victim in the parking lot, he briefly tried to engage her in conversation, saying that his name was "Victor." The suspect followed the victim between two parked cars, where he began touching and assaulting her. The victim screamed and began calling for help from security, prompting the suspect to flee on foot. The suspect was wearing a distinctive white t-shirt with graphics, shorts, and black tennis shoes.
The third assault occurred on Raitt Street north of McFadden on January 1, 2016. During this incident, a lone female was walking after 10 PM when approached by the suspect. Again, the suspect engaged the victim in conversation and told her his name was "Victor." The suspect sexually assaulted the victim and the victim responded by punching the suspect in the face. The suspect violently pushed the victim to the ground before he fled.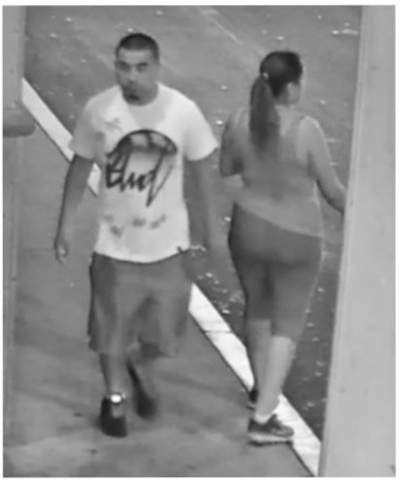 The suspect is described as a male Hispanic between 24 and 29 years old, 5'04"-5'08" tall and weighing between 150 to 165 pounds. On two of the assaults, the suspect told the victim his name was "Victor."
If you believe you have seen the suspect or have any information related to these crimes, please contact Detective Corporal Javier Aceves at 714-245-8542 or Orange County Crime Stoppers 1-855-TIP-OCCS .
Address/Location