Santa Ana Police Department
Advisory: SAPD DETECTIVES REQUEST ASSISTANCE IN IDENTIFYING SUSPECT WHO COMMITS ROBBERY/PURSE SNATCH OF 73 YEAR-OLD FEMALE

Location: 3911 S. Bristol / CVS Pharmacy parking lot
Suspect Vehicle: Newer 4 dr. white sedan, stock condition with damage on rear bumper.
Suspect Description: Male, White, 24 yrs., 5'07", 145 lbs., wavy brown hair, wearing blue jeans torn at the knees and blue shorts under his jeans.
Synopsis: On 08/10/2016 at approximately 5:26 p.m., the 73 year-old victim arrived at the CVS Pharmacy located at 3911 S. Bristol Street. She was approached by the male suspect who parked next to her vehicle. Throughout the period of several minutes, the suspect spoke to the victim (ruse) about fixing scratches to her vehicle paint. Once the victim began to walk away from the suspect, he grabbed her purse knocking her to the ground and fled in his vehicle in a northbound direction on Bristol Street. Detectives believe that there were several other customers/possible victims who were contacted by the same suspect who may be able to assist them with additional information about the suspect and his vehicle.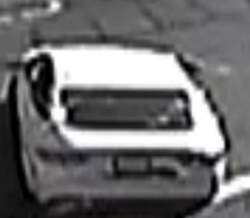 Anyone with information on the suspect or vehicle, please call SAPD Robbery Unit Det. Cpl. A. Silva at (714) 245-8545, Det. Garcia at (714) 245-8408 or OC Crime Stoppers at 1-855-TIP-OCCS.