Tackling Homelessness: County of Orange to Install New Bathrooms at Civic Center – Providing 24/7 Access for Homeless
By: First District Supervisor Andrew Do
(Santa Ana, California)— As part of its comprehensive response to homelessness, the County of Orange is moving forward with plans to install new bathrooms at the Orange County Civic Center, providing 24-hour access for hundreds of people who are currently homeless.
Orange County Supervisor Andrew Do, who has spearheaded the county's homeless response, said that bathroom access is one of the most frequent complaints he's heard from his discussions with homeless residents.
"You take access to a bathroom for granted," said Orange County Supervisor Andrew Do. "After you sit and talk with people who are currently living at the Civic Center, you realize how difficult it can be to fulfill a basic human need."
The county's plan to expand bathroom access comes as the City of Santa Ana has temporarily closed the city's library for renovations – a move that homeless advocates say is targeted at their community.
"One of the reasons they want to change the configuration is the hope that the homeless might not like sitting in the middle and being watched," Larry "Smitty" Smith, who is currently homeless, told the Orange County Register.
Set to begin Monday, installation of the new bathrooms, planned for a highly visible location near Ross Street, is expected to solve one daily problem facing many people that are homeless. Currently, the only restrooms at the Civic Center are locked on a nightly basis, leaving few after-hours options for the nearly 400 people who live in and around the Civic Center in downtown Santa Ana.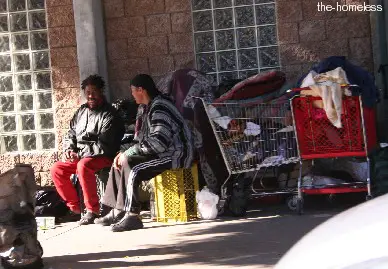 The new 24-7 bathrooms are just the latest action by the County of Orange to tackle homelessness. Last fall, Orange County Supervisor Andrew Do first proposed a social care coordinator, or homeless czar to cut through bureaucratic red tape and improve existing services. That position was filled in May – with the appointment of Susan Price.
In advance of the El Nino storms, Supervisor Andrew Do succeeded in fast-tracking the transformation of an abandoned Santa Ana bus terminal into an emergency storm center. Approximately 4,000 people received food and shelter from the winter storms since it opened on January 30.
In May, the Orange County Board of Supervisors voted to open the competitive bidding process for an operator for the county's first permanent, year-round shelter and multiservice center, which was unanimously approved by the board in November. The new shelter will provide shelter to 200 people, with supportive services available to help the homeless with everything from employment to mental health care.
Orange County has also partnered with local lawmakers and non-profit organizations to expand assistance programs and maximize mental health spending. In April, American Family Housing announced that, thanks in part to the county's assistance, it was receiving $1.7 million for a new veteran housing project in Midway City. Expected to open in November, Potter's Lane will provide housing and wrap-around services to homeless veterans.
In June, the Orange County Board of Supervisors moved forward with an application for an innovative pilot program focused on "whole person care." If selected, the county and federal matching-funds would allocate $23.5 million to provide targeted wrap-around services to at-risk groups.
In 2015, Orange County taxpayers paid the Medi-Cal bills for 5,918 homeless patients that accessed local emergency rooms. More than 1,000 of these homeless patients enrolled in Medi-Cal visited Orange County emergency rooms more than once within a three-month period. If the county's grant is approved, the Whole Person Care program will work to reduce these frequent emergency room visits by coordinating medical, behavioral health and social service programs to meet the individual needs of these high-risk Medi-Cal members.
State Senator John Moorlach has also supported the county's efforts with changes at the state level to provide the county with greater flexibility over its mental health spending. In July, the California Department of Health Services administratively implemented Senate Bill 1273, fulfilling the county's request to allocate mental health funds for crisis stabilization services.
"Orange County is committed to getting people off the streets and onto a productive pth to self-sufficiency," said Orange County Supervisor Andrew Do. "And we continue to look for more ways to help."