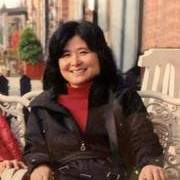 Santa Ana Police Department
Advisory: SAPD Requesting Assistance Locating A Critical Missing Person
Missing Person, Lily HUANG was last seen around midnight on August 25, 2018. Around 9:00am, HUANG'S family discovered that HUANG was not home. Prior to going missing, HUANG told her daughter that she was going to injure herself and left a note behind apologizing for past family issues. According to family members, HUANG has been diagnosed as being bipolar. It is unknown if HUANG has been taking her prescribed medication.
Missing Person HUANG is known to frequent Downtown Disney and City of Newport Beach/Corona Del Mar area.
CRITICAL MISSING PERSON:
Lily HUANG / 53 years old
Female, Chinese, 5'05", 135 lbs.
black hair, brown eyes
Location: 600 W. 3rd Street Santa Ana
If you located or any information regarding this case please contact Detective G. Moroyoqui at desk: 714-245-8731 or e mail: gmoroyoqui@santa-ana.org.