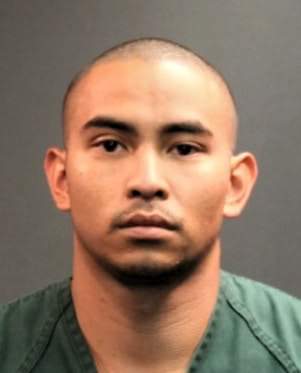 Case # 16ZF0003
Date: August 24, 2018
FELON OUT ON THE STREETS DUE TO PROP 47 SENTENCED TO 18 YEARS IN PRISON FOR ASSAULTING PEACE OFFICERS WITH SEMIAUTOMATIC FIREARM
SANTA ANA, Calif. – A felon who had two of his prior felony convictions reduced to misdemeanors under Proposition 47 (Prop 47), which resulted in his release from custody, was sentenced today to 18 years in state prison for shooting his firearm at police officers while leading them on a chase.
"Orange County law enforcement is second to none, and our united efforts continue to keep Orange County safest among all surrounding counties despite the continued passage of anti-public safety laws," stated District Attorney Tony Rackauckas.
Defendant: Jimmy Hoang Truong, 31, Santa Ana
Convicted by a jury on Feb. 20, 2018, of the following felony counts:
(2) Assault with a semiautomatic firearm on peace officers
Assault with a semiautomatic firearm
Felon in possession of a firearm
Evading peace officers while driving recklessly
Sentencing Enhancements:

Personal use of a firearm
Sentence: 18 years in state prison
Circumstances of the Case
At approximately 9:30 p.m. on Nov. 7, 2015, Santa Ana Police Department (SAPD) officers initiated a traffic stop near Euclid Street and McFadden Street on Truong, who was driving a sedan.
Truong ignored the traffic stop and led officers on a pursuit.
He drove for approximately two hours in and around the Santa Ana area.
During the pursuit, SAPD successfully deployed spike strips to deflate the defendant's tires, but the defendant continued to flee.
During the chase, Truong fired a gun at the pursuing SAPD officers, who were not struck by the bullets. SAPD never fired their weapons back at Truong.
At approximately 11:30 p.m., SAPD officers stopped Truong's vehicle and used their vehicles to block in Truong.
The defendant refused to exit his car and instead pointed his semiautomatic firearm at one of the officers.
The SAPD SWAT and the Hostage Negotiation Team responded to the scene. Truong refused to cooperate or surrender for three hours.
At approximately 2:40 a.m. on Nov. 8, 2015, Truong exited his vehicle and was then arrested by SAPD, who investigated this case.
Truong's Orange County Criminal Background
On Sept. 20, 2012, Truong was convicted of a felony drug possession (Case #12WF2510), and again a year later, on Sept. 25, 2013, Truong was convicted of felony drug possession (Case #13WF2395).
On Dec. 2, 2014, Truong had both of his felony convictions reduced to misdemeanors under Prop 47, and he was not placed on parole, probation, or post-release community supervision. Five months later, on April 3, 2015, Truong was arrested for carrying a switch blade knife on his person. Three days later, on April 6, 2015, he was arrested again for being in possession of a controlled substance.
On May 26, 2015, Truong was charged with a misdemeanor count of carrying a switch blade knife on his person (Case #15WM06095).
Prop 47
On Nov. 4, 2014, the voters of California adopted Prop 47, a referendum which reduced the status of certain property and drug offenses from felonies to misdemeanors. Prop 47, referred to as The Safe Neighborhoods and Schools Act, stated the law would reduce prison overcrowding and would allow leftover funds due to the measure be used on school truancy, dropout prevention, victim services, mental health and drug abuse treatment, and other programs designed to keep offenders out of custody.
"Today's outcome regarding the sentencing of a dangerous and habitual violent offender, is a reflection of the collaborative efforts between the Orange County District Attorney's Office and the Santa Ana Police Department to safeguard our community. I commend both agencies for the continued pursuit of justice to remove violent offenders from our streets," stated Santa Ana Police Department Chief David Valentin. "Unfortunately our communities are still adversely impacted by legislation such as Proposition 47. As a Policing industry, in partnership with our communities and prosecutorial partners, we will remain steadfast and relentless in keeping our officers and communities safe."
"The Santa Ana Police Department should be commended for resolving this extremely dangerous situation without a civilian or police officer getting shot," said District Attorney Tony Rackauckas.
Prosecutor: Senior Deputy District Attorney Brock Zimmon, Appellate and Training Unit.