Santa Ana Police Department
Advisory: SAPD Vice and Narcotic Unit conducted an enforcement program targeting the prostitution related activity along the Harbor Blvd. corridor
On Wednesday evening, 02-22-17, the Santa Ana Police Department's Vice and Narcotic Unit conducted an enforcement program targeting the prostitution related activity along the Harbor Blvd. corridor.
The detectives focused their efforts on female offenders soliciting themselves, loitering in the area for the purpose of prostitution.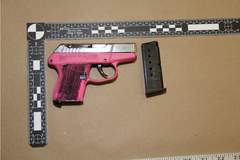 The detectives made 15 arrests within a six hour period. One of the females arrested, Taina Theresa Starr, was additionally found to be in possession of a .380 caliber handgun. She was booked at the Santa Ana Jail for prostitution and weapons related offenses.
A 16 year-old female was detained for activity consistent with prostitution. She was found to have an outstanding warrant for her arrest. She was transported and booked at the Orange County Juvenile Hall per the terms of the arrest warrant.