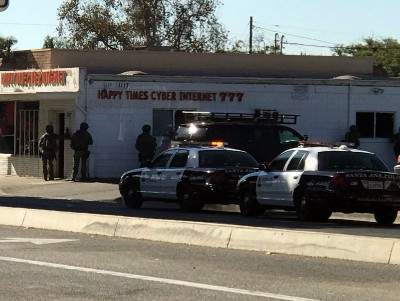 Santa Ana Police Department
Advisory: SAPD Investigates Cyber Cafe for Illegal Activities – 8 arrested
On September 13, 2018 at 3:30 p.m. the Santa Ana Police Department SWAT Team served a search warrant at 1117 W 17th Street (Happy Times Café) in the City of Santa Ana. At the time of service, 54 people were contacted inside the business; eight were arrested for various charges. No injuries were reported during this police action.
The Santa Ana Police Department received community complaints regarding quality of life issues surrounding this business. The Police Department, in partnership with the community, worked together to identify and address specific concerns. These efforts resulted in several documented gang members being arrested for possession of firearms, possession of narcotics, and driving stolen vehicles.
During the service of the warrant, detectives located an illegal gaming business. Several electronic gaming machines were seized and booked into evidence. Santa Ana Code Enforcement responded to the location and began abatement procedures. The building was secured and "red tagged" by Santa Ana Code Enforcement due to its unsafe conditions.
Santa Ana Police Chief David Valentin said, "We are focused on providing the best possible policing services to our Santa Ana community, with continued emphasis on our two-pronged approach of Community Based and Traditional Policing (proactive) strategies. This is a fine example of both these strategies, with clear measurable outcomes and a positive impact for our resident and business community."