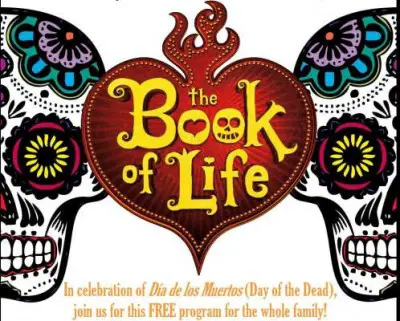 City of Santa Ana
Community Alert: Screening of The Book of Life in Celebration of Day of the Dead / En celebración del Día de los Muertos: La película del Book of Life
In celebration of Día de los Muertos (Day of the Dead) the Santa Ana Public Library proudly presents a special screening of the film The Book of Life (2014). The Book of Life is a 20th Century Fox production that depicts the world of the Latin-American tradition of Día de los Muertos (Day of the Dead) through its colorful characters and music.
This animated film features the voices of a cast of A-List actors: Diego Luna, Zoe Saldaña, Channing Tatum, Christina Applegate, Kate del Castillo, Danny Trejo, Ice Cube, Ron Perlman, and many more! Rich with a fresh take on pop music favorites, The Book of Life encourages us to celebrate the past while looking forward to the future. The film, rated PG-13, can be enjoyed by the whole family.
Embracing cultural events and celebrations such as Día de los Muertos reminds many of their heritage and reaffirms that Santa Ana is a culturally diverse and beautiful city. Showing such family-friendly films is a great way to encourage family visits to the library for programming and services.
Join the Santa Ana Public Library for this special program which will be held on Wednesday, November 4, 2015 beginning at 6:00 p.m. in Meeting Room A. There will be a special performance just prior to the screening of the film, and light refreshments inspired by Día de los Muertos will be served.
Free metered parking is available after 6 p.m. on Ross Street, or 2-Hour validation is available for the parking structure next to the library on Civic Center Drive.
Santa Ana Public Library, 26 Civic Center Plaza, Santa Ana, CA 92701
For more information, contact (714) 647-5267
The Santa Ana Public Library is located at:
26 civic center plaza (corner of Civic Center and Ross)