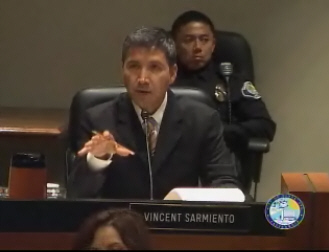 Santa Ana Mayor Pro Tem Vincent Sarmiento was selected today as one of the fourteen politicians to join something called the NewDEAL, which is "a national network that is committed to highlighting innovative ideas from state and local elected leaders who are pro­growth progressives."
Governor Jack Markell of Delaware and U.S. Senator Mark Warner of Virginia, Honorary Chairs of the NewDEAL, recognized City Councilor Sarmiento's efforts to expand opportunity by providing affordable housing options in areas where it can have the most impact.
That is pretty ironic given that the Santa Ana City Council recently "amended a housing ordinance to no longer require developers to set aside a percentage of converted residential units for affordable housing, which is sold or rented below the market rate," according to KPCC.
Why would the Santa Ana City Council unwind their vaunted affordable housing ordinance? Because they want to convert dilapidated office towers in Downtown Santa Ana into condo towers in order to further gentrify DTSA.
The problem with government-mandated affordable housing is that this won't stop property values from continuing to skyrocket.
Santa Ana does have a problem when it comes to housing stock – too many of our young people are having to move to the Inland Empire to find affordable housing.  But government solutions, such as those crafted by Sarmiento, don't help – they make things worse. This is why our City Council had to water down their own affordable housing ordinance. It was preventing developers from creating new housing.
Are there alternatives to government-mandated affordable housing?  Sure there are:
Let people convert garages into housing units – and reduce the ridiculous planning fees the city charges for any remodeling on our homes.
Allow residents to develop micro housing – including tiny houses, cottages, shipping containers, mobile homes and more—affordable housing for those who can live in small spaces.
Allow developers to build tiny apartments allow for incredible housing density in cities. Generally falling in the 100 to 200 square foot range.
Allow more modular housing – small, prefabricated homes that could even be put in garages, driveways, and parking spaces.
I am not sure why Sarmiento is considered to be some sort of visionary, particularly when his signature initiative, the affordable housing ordinance, has proven to be unworkable. Don't look to him or anyone else on our City Council for real solutions that work.  You will just end up disappointed.