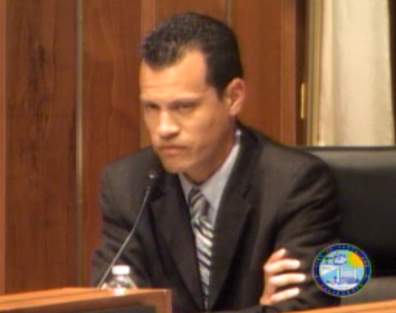 The Santa Ana City Council unanimously rejected their own ballot measure proposal, which was Agenda Item # 65A, to give themselves what amounted to a 700% pay raise.  We have been hammering them on this issue for weeks – even posting an article about how much this Council really makes.  I surmise that they finally realized this was going to kill their re-election campaigns.  Council Members Michele Martinez and David Benavides as well as Mayor Pro Tem Sal Tinajero are all up for re-election this November.
The ballot measure proposal they killed included revisions to the Code of Ethics and to their own campaign finance rules.  Remarkably the Council was proposing to accept campaign contributions from residents and business owners who were asking for licenses or permits.
I think the gorilla in the room tonight was the possibility that State Senator Lou Correa will be running for Mayor of Santa Ana. This rumor has now been confirmed by multiple sources and I believe he will be running regardless of what Mayor Miguel Pulido decides to do.  You can bet that Correa will win and I am certain that he will find candidates to oppose the Council Members who are up for re-election if they don't start getting in line.
What else led to the tanking of the City Council's outrageous raise proposal?  It is possible that the Council coalition fell apart over the medicinal marijuana dispensary issue.  Tinajero likely took major umbrage at how Benavides and a few of his colleagues tried to put a measure on the November ballot to ban all marijuana dispensaries.  That move by Benavides likely contributed to the failure of the pay raise scheme – a bummer for him as he really needs to pad his income.
Benavides and Martinez, in particular, need to leave the City Council and go find real jobs rather than try to fool Santa Ana voters into giving them a raise they don't deserve.
As for the marijuana dispensary ban idea the Council rejected it.  That means there will be two ballot measures before us in November and both will legalize the dispensaries. The voters won't vote on a measure to ban the dispensaries altogether.  That is sensible since California voters already legalized the use of medicinal marijuana years ago.
I am also hearing that Councilman Vince Sarmiento is threatening to run for Mayor himself if Correa runs.  That is hilarious!  Sarmiento almost lost to a totally unknown candidate in 2012, Estela Amezcua.  He only beat her by about two thousand votes, according to Smart Voter, and she didn't spend a dime!  He on the other hand spent six figures.  What in the world makes Sarmiento think he can beat Correa?  Sarmiento must be taking drugs to even ponder such a ridiculous endeavor.