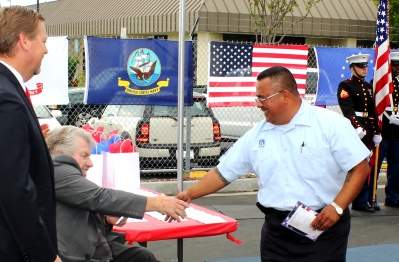 FOR IMMEDIATE RELEASE: Nov. 11, 2014
FOR MORE INFORMATION: Joel Zlotnik (714) 560-5713/Eric Carpenter (714) 560-5697
OCTA Honors Employees Who Served For Veterans Day
About 10 percent of OCTA's workforce is former military service men and women
ORANGE – The Orange County Transportation Authority today recognized the service of employees who are military veterans during OCTA's fifth annual Veterans Day Appreciation event.
OCTA employs 115 veterans from the Army, Air Force, Navy, Marines and Coast Guard, representing nearly 10 percent of the workforce. OCTA has been recognized by military organizations as a military-friendly employer for its efforts to actively recruit veterans.
The veterans are employed in a range of positions, including OCTA coach operators, maintenance workers and administrative employees.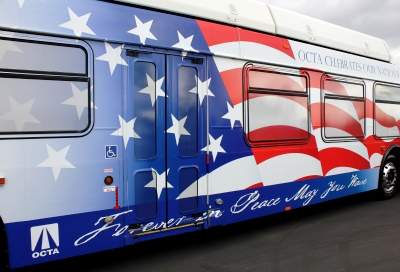 OCTA Director Greg Winterbottom and CEO Darrell Johnson presented the veterans with a special pin, adorned with the United States flag and the OCTA logo and year, along with the word "Veteran."
A Color Guard from the 13th Marine Expeditionary Unit based at Camp Pendleton presented colors during the ceremony.
"I'm so proud of the service of our veterans – both what they gave to our county and what they continue to give to the people of Orange County," said Winterbottom, himself a U.S. Army veteran. "We continue to enjoy the freedoms that we have today because of the service of the veterans here and around the world."
CEO Johnson said honoring veterans is a tradition he's proud to continue. "Our veterans bring strong experience, dedication and values that make them such an important part of the OCTA family. We are proud to take some time on Veterans Day to say thank you for your service."
Ten OCTA employees with relatives serving in the military also received recognition.
In 2012, the Southern California Army Advisory Council recognized the OCTA as a military friendly employer for its efforts in actively recruiting veterans. Those efforts include participating in recruiting events at the Marine Corps base at Camp Pendleton, remaining engaged with local junior colleges and universities to recruit veterans, and coordinating events with military organizations to help veterans transition from active duty service to careers in the transportation industry.
"It means a lot to those of us who served our country that OCTA recognizes that service," said Kenneth Robinson, a U.S. Marine Corps veteran and OCTA coach operator for the past 15 years. "It makes me feel appreciated and gives us a strong sense of camaraderie."
# # #