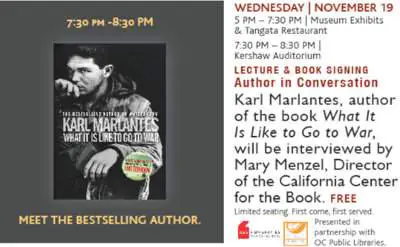 MEDIA ADVISORY
For Immediate Release
Wed., Nov. 19, 2015
7:30 PM – 8:30 PM | Kershaw Auditorium
FREE LECTURE & BOOK SIGNING: What It Is Like to Go to War
Meet Bestselling Author Karl Marlantes in Conversation
Bestselling author Karl Marlantes will be at the Bowers Museum on Wednesday, November 19 at 7:30 pm for a free lecture and signing to discuss his latest non-fiction work, What It Is Like to Go to War. Mr. Marlantes will be interviewed by Mary Menzel, Director of the California Center for the Book. Mr. Marlantes is a Vietnam Veteran, a Rhodes Scholar, and the author of the New York Times best-selling novel Matterhorn: A Novel of the Vietnam War.
In What It Is Like to Go to War, Mr. Marlantes takes the reader on a deeply personal and frank journey into what it is like to experience the ordeal of combat. Marlantes combines riveting accounts of his combat experiences with lucid analysis, self-examination and thoughts on war throughout history from Homer to The Mahabharata to Jung.
This special event is free and open to the public and is presented in partnership with OC Libraries as part of the California Reads, War Comes Home initiative, made possible by Cal Humanities. Seating is limited seating and is provided on a first come, first served basis.
"What It Is Like to Go to War is a well-crafted and forcefully argued work that contains fresh and important insights into what it's like to be in a war and what it does to the human psyche."—The Washington Post
"Marlantes knows what he writes. . . Raw, unsettling honesty pervades the work."—Time.com
"Marlantes is the best American writer right now on war . . . With What It Is Like to Go to War a second Marlantes book resides on the top shelf of American literature."—Anthony Swofford, author of Jarhead
The Bowers Museum will be open from 5pm-7:30 pm on Nov. 19 as part of its Bowers After Hours extended museum hours on select dates in November. Tangata restaurant will also be open and will offer special menu options.
The BOWERS MUSEUM is located in the heart of Southern California at 2002 North Main Street in Santa Ana, just one minute from the 5 freeway at the Main St. South exit, and just a few minutes from the 22, 55 and 57 freeways.
Admission to the specially-ticketed China's Lost Civilization: The Mystery of Sanxingdui exhibit is $18 for adults and $15 for students and seniors on weekdays; and $20 for adults and $17 for students and seniors on weekends. General Admission to the Bowers Museum is $13 for adults and $10 for students and seniors on weekdays; and $15 for adults and $12 for students and seniors on weekends. Children under 12 are always free, when accompanied by a paid adult. Regular operating hours are Tuesday through Sunday, 10 am to 4 pm.
Bowers Museum Membership is affordable and includes: General Admission for an entire year to both the Bowers Museum and the Kidseum; up to two FREE tickets to specially-ticketed exhibitions; special members-only events; and discounts on programs, artistic workshops and purchases at the Gallery Store. The student membership level is $25 for one year, and the annual Family Membership is only $80 for a limited time for up to six people including two adults and four children ages 18 and younger. Children under 12 are free when accompanied by an adult who is a member.
For more information, please visit www.bowers.org or call 714-567-3645.
BOWERS MUSEUM
Address: 2002 North Main Street, Santa Ana, CA 92706
Tickets and Information | 714.567.3600
Group Tours: grouptours@bowers.org | 714.567.3680
Membership: membership@bowers.org | 714.567.3639
For more information, visit our website at www.bowers.org