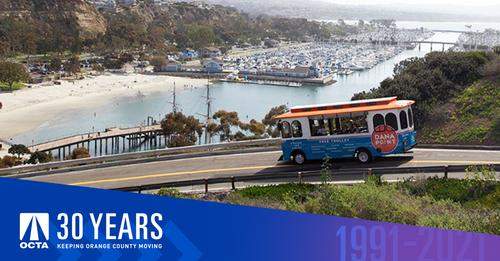 ORANGE – In 2021, the Orange County Transportation Authority continued to adapt and push ahead despite the ongoing challenges of the coronavirus (COVID-19) pandemic, keeping its promises to maintain safety first while delivering a balanced and sustainable transportation network for Orange County.
The OCTA Board led the way in directing policy that made necessary adjustments to protect the health and safety of the public and OCTA employees, while continuing to keep Orange County moving.
That included pushing ahead on important freeway and transit projects and gradually and safely adding back bus service as demand picked up again.
"Even with the many ongoing challenges of the COVID-19 public health crisis, I'm very proud of the work everybody at OCTA has done in the last year to continue providing essential transit services and transportation improvements for the people of Orange County," said OCTA Chairman Andrew Do, also the Chairman of the Orange County Board of Supervisors.
In 2021, OCTA marked its 30th year and succeeded in advancing projects promised to voters through Measure M, Orange County's half-cent sales tax for transportation improvements. Among them are important freeway improvements on I-405 and I-5 in South County.
The I-405 Improvements Project, the largest OCTA freeway project, reached nearly 70 percent completion, including reconstruction of nine bridges. And thanks to an innovative refinancing effort, the OCTA Board saved taxpayers $158 million by resetting the interest rate on the project's federal loan.
OCTA also made strong progress building the OC Streetcar in Santa Ana and Garden Grove, now approximately 60 percent complete, and funded additional street improvements and traffic signal synchronization projects. The Board made $40 million available for projects aimed at reducing congestion and improving traffic flow. And to date, 94 signal synch projects have eased travel at more than 3,200 intersections.
While safety remained the focus during the public health crisis, the OCTA Board gradually added back bus service hours and enhanced the OC Bus system. Cypress and Irvine Valley Colleges joined the College Pass Program, which gives tens of thousands of students free bus rides and better access to education, jobs and additional opportunities for success.
The board increased transit access and affordability to Orange County's youth by launching a promotional program offering free OC Bus rides to all youth ages 6 to 18 years.
OCTA boosted its zero-emission bus efforts, continuing to test 10 hydrogen fuel-cell electric buses and beginning a pilot program to test 10 plug-in electric buses.
A strong focus on the environment this past year included launching a website to share OCTA's environmental achievements, culture of sustainability, and commitment to safeguarding our natural resources and communities. View that website at www.octa.net/green.
OCTA also demonstrated its commitment to diversity, equity and inclusion with a new website and ongoing engagement throughout the agency. View those efforts at www.octa.net/equity.
OCTA was honored to end the year by being selected as one of Orange County's 2021 Top Workplaces in a program that anonymously surveyed employees through The Orange County Register.
For more on all of OCTA's projects and programs and its efforts to enhance Orange County transportation, please visit www.octa.net.