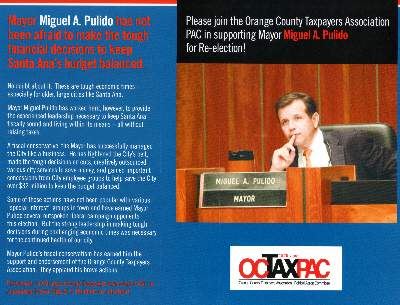 The Orange County Taxpayers Association PAC has dropped a mailer in support of Santa Ana Mayor Miguel Pulido into local mailboxes today.  The mailer touts Pulido's record of "restoring Santa Ana's fiscal health without raising taxes."
In stark contrast consider that Council Member David Benavides supports every single tax increase on the November ballot, including the dreadful Measure 38 – which most of the state's Democratic leaders oppose.
And Benavides also supported the red tape portion of the so-called "sunshine ordinance," which will result in additional development costs and will ultimately drive new jobs away from Santa Ana.
Benavides is unfriendly to businesses and in support of higher taxes.  No wonder the OC Taxpayers Association PAC is supporting Mayor Pulido instead.