ORANGE – Bus passengers should plan alternate ways to travel as soon as tomorrow Nov. 3, after the Orange County Transportation Authority was notified this afternoon that its maintenance employees intend to go on strike as soon as today, Wednesday, Nov. 2.
Who will you vote for in the OC 2nd Supervisorial District?
If a strike is called by the union, bus service is expected to continue through Wednesday but service would halt in Orange County beginning on the morning of Thursday, Nov. 3.
Bus passengers are asked to check for updates at: www.octa.net.
OCTA and the union for OCTA's 150 mechanics and service workers, Teamsters Local 952, have been meeting with the hope of resolving the contract negotiations and avoiding any disruptions to bus service but the union notified OCTA Wednesday afternoon of its intent to strike.
OCTA believes a strike is unnecessary and unfairly affects bus passengers and more than 1,000 OCTA employees. OCTA is calling on the union to call off the strike and return to negotiations to find a resolution.
"We are extremely disappointed that union leaders took this drastic action and called for a strike," said OCTA Chairman Mark A. Murphy, also the Mayor of Orange. "We know that any interruption in bus service hurts the people in our community who rely on OC Bus to get where they need to be, whether that's jobs or to school. We still believe we can reach a fair resolution without putting the burden on bus passengers."
Public transit is critical for people to reach jobs, education, healthcare, grocery shopping and elsewhere. Approximately 85% of riders use OC Bus as their primary means of transportation and more than half of riders have a total household income of less than $50,000.
OCTA is offering a contract that rewards the hard work of the employees who keep buses running safely and efficiently, while remaining fiscally responsible to Orange County taxpayers.
Transit service is essential to ensuring the public can get to work and has access to healthcare, including COVID-19 testing and vaccination sites. Service is also vital to students getting to and from school. In the last year, more than 3 million trips have been taken on OC Bus with OCTA's Youth Ride Free and College Pass programs.
In February, OCTA successfully negotiated with Teamsters Local 952, reaching a three-year contract agreement with coach operators. That same month an agreement was reached with the union representing employees in OCTA's Operations Division.
"We believe the contract offer we've made to maintenance employees is in line with what was offered to our coach operators and other union workers. It's a generous offer that is very competitive in the marketplace," Chairman Murphy said.
OCTA has met with the Teamsters more than 20 times, including mediated sessions, to negotiate a new contract. The existing contract expired Sept. 30.
Please continue to check www.octa.net for the latest updates on OCTA transit services or by calling the OCTA Customer Information Center at (714) 636-7433.
Orange County Transportation Options:

Note – Santa Ana Mayor Vicente Sarmiento is on the OCTA Board of Directors. Why didn't he do more to stop this bus strike?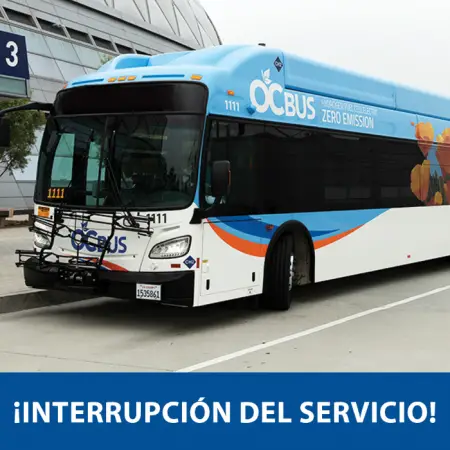 ¡Interrupción del servicio!
OCTA fue notificada esta tarde de que sus empleados de mantenimiento tienen la intención de ir a la huelga. Puede haber una reducción significativa en el servicio de OC Bus tan pronto como hoy miércoles 2 de noviembre a las 4 p.m., y NO HABRÁ SERVICIO DE OC BUS mañana, jueves 3 de noviembre al menos hasta el domingo 6 de noviembre. Los pasajeros deben planificar formas alternativas de viajar y consultar www.octa.net para obtener la información más reciente.
Sabemos que esta interrupción del servicio afecta a los pasajeros que confían en nosotros. OCTA está lista y dispuesta a continuar negociando con el sindicato que convocó la huelga para llegar a una resolución exitosa y restablecer el servicio de autobuses lo antes posible.
Continúe revisando www.octa.net para obtener las últimas actualizaciones sobre los servicios de tránsito de OCTA o llamando al Centro de Información al Cliente de OCTA al (714) 636-7433.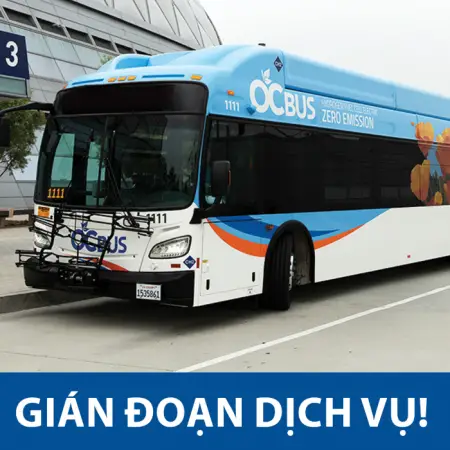 Dịch Vụ Xe Bus OC Bị Gián Đoạn
Cơ Quan Giao Thông OC thông báo rằng dịch vụ xe Bus OC có thể bị gián đoạn bắt đầu từ hôm nay, Thứ Tư, ngày 2 Tháng Mười Một, và KHÔNG CÓ DỊCH VỤ XE BUS OC vào ngày mai, Thứ Năm, ngày 3 Tháng Mười Một và có thể kéo dài đến Chủ Nhật, ngày 6 Tháng Mười Một, do sự đình công của nhân viên bảo trì. Những người đi xe bus nên có kế hoạch cho các loại phương tiện di chuyển khác. Thông tin được cập nhật tại https://octa.net/Bus/Service-Alerts/