MAINPLACE MALL INTRODUCES "ART AT MAINPLACE" SHOWCASING LOCAL ARTISTS
Series Features Vibrant Murals Throughout the Mall and a Monthly Art Walk Event

SANTA ANA, California – MainPlace Mall, Santa Ana's premiere shopping destination, is proud to introduce its "Art at MainPlace" series, showcasing the work of local artists throughout the mall. Guests will see colorful and imaginative art on exhibit around the property, each reflecting the unique style and individuality of the artists who designed them. "Art at MainPlace" is at the heart of the mall's ongoing initiative to support the work of Santa Ana's flourishing artist community.
To provide an opportunity for the community to come together and enjoy the beautiful art pieces, MainPlace will host an "Art Walk" throughout the shopping center from 2-5 pm on the second Saturday of each month, May through September. The MainPlace "Art Walk" will be a family-friendly event where guests will be able to interact with the local artists, enjoy live music, as well as participate in hands-on workshops hosted by local artists that are perfect for all ages!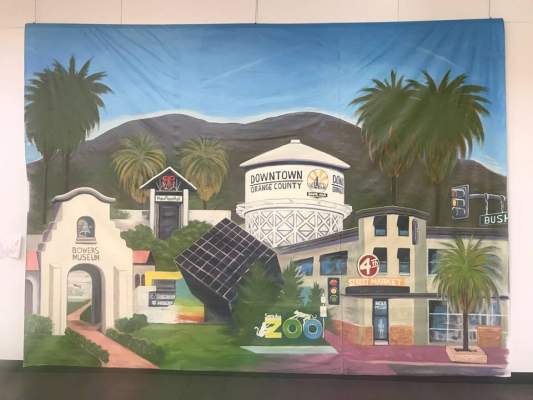 "We are proud to celebrate Santa Ana's rich artistic culture and support gifted artists in our community by showcasing examples of their work throughout the mall," said Jonathan Maher, Senior General Manager for MainPlace Mall. "Santa Ana is known for its vibrant art culture, and we're thrilled to bring original pieces inside the mall so that our guests can enjoy while they shop and dine at MainPlace."
For a chance to win prizes including retailer gift cards, guests are encouraged to snap a picture with the murals and post to social media using the hashtag #ArtAtMainPlace. Keep an eye out on MainPlace's Facebook and Instagram pages as entrants will be featured throughout the series! Some of the murals provide the opportunity for guests to interact with the art, so when you snap pictures you can appear to have wings, be parachuting, or holding a giant bouquet of flowers. Click here to see the making of the mural, "Xochtli, Goddess of Flowers," created by Santa Ana artists Kimberly Duran and Bud Herrera.
Maher continued, "at MainPlace, we strive to provide an environment where the community can enjoy special time together, as well as offer a fun setting where they can shop, dine, learn and be entertained. We hope our guests find joy in our Art at MainPlace series and join us in celebrating Santa Ana's rich art culture!"
For a full list of retailers and restaurants, updated deals, and exciting events happening at MainPlace Mall, visit www.shopmainplacemall.com.
About MainPlace Mall
MainPlace Mall is part of the Centennial Collection, managed by Centennial Real Estate Management Company, LLC. The center offers a wide array of name-brand shopping, dining and entertainment options all under one roof in the heart of Orange County. Conveniently located off the 5, 55 and 22 freeways, the shopping center welcomes millions of shoppers each year, providing an un-matched experience for families, tourists and locals alike. MainPlace is anchored by Macy's and JCPenney, with 200 specialty retailers and 26 restaurant and eateries. Shopping Hours during the holidays can be found online here. For more information, call 714.547.7800 or visit the company website. Follow MainPlace Mall on Facebook at @MainPlaceMall, Twitter at @ShopMainPlace and Instagram at @ShopMainplaceMall.
About Centennial
Centennial is a national owner of retail real estate with a portfolio of assets including regional malls, urban retail, and community centers. Founded in 1997, Centennial is deeply rooted in retail and focuses on creating dynamic community-focused shopping, dining and entertainment destinations. For more information, visit centennialrec.com.