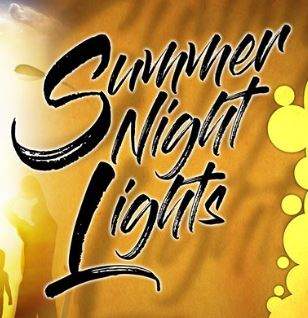 City of Santa Ana
Community: Summer Night Lights Now Open Evenings for Youth & Families /El Programa Summer Night Lights Para Jóvenes y Familias
SANTA ANA – The City of Santa Ana in partnership with Neutral Ground welcomes community members to participate in the Summer Night Lights program. The Summer Night Lights Program is a pilot program designed to provide recreational activities for youth and families during the summer season at El Salvador Park.
The program keeps the community center's recreational outdoor space at El Salvador Park open and programmed with activities on an extended schedule from 7:00 pm-10 pm each Thursday and Friday beginning July 12th through August 10th, 2018.
Neutral Ground was awarded a grant through the City of Santa Ana's Community Development Block Grant (CDBG) to coordinate a number of activities including sports programming and skills-development clinics for participants, arts & crafts tables for younger children that will be take-home, as well as health and wellness classes. "This pilot program promotes family-friendly activities during the summer months, while providing a positive alternative to reduce crime and violence," said Councilmember Juan Villegas. Youth that participate in the Summer Night Lights program will have access to a variety of community resources such as: free eye exams, free dental exams, health & wellness workshops and information about sports activities. "We are thrilled to launch the Summer Night Lights program as a way to keep youth engaged with positive role models and having fun during the summer. Summer Night Lights is starting at one park, but we hope to expand it in the years to come," said Councilmember Jose Solorio.
Local youth have been hired to assist with the program and will be mentored by leaders of Neutral Ground. Young adults will be given the opportunity to collaborate with the Santa Ana Police Department in overseeing the park entrances and exits and assisting with programmatic operations. Young adults will also receive training for the ServSafe Food Handler card, allowing them to properly serve food during the event, and earning them a valuable certification, which can lead to employment. The Summer Night Lights program participants will gain important insights on youth development, gang intervention, and violence prevention and mediation skills.
"We encourage all youth to participate in the Summer Night Lights program. In addition to enjoying the activities, our youth can help shape this pilot program, as our hope is to replicate this program at other locations throughout the city in the future," said Councilmember Benavides.
Youth that are interested in participating in the program may sign up directly at El Salvador Park beginning July 12, 2018 at 7pm, located at 1825 West Civic Center Drive, Santa Ana 92703 or by calling (714) 980-0953. Volunteers are welcome to sign up by visiting: www.ngservices.org.
#################################################
SANTA ANA – La ciudad de Santa Ana, en asociación con Neutral Ground, da la bienvenida a los miembros de la comunidad para participar en el programa Summer Night Lights. El programa Summer Night Lights es un programa piloto diseñado para proporcionar actividades recreativas para jóvenes y familias durante la temporada de verano en El Salvador Park. El programa mantiene abierto el espacio recreativo al aire libre del centro comunitario en El Salvador Park y se programa con actividades en un horario extendido de 7:00 p.m. a 10 p.m. todos los jueves y viernes empesando el 12 de julio hasta el 10 de agosto de 2018.
Neutral Ground recibió una subvención a través del Community Development Block Grant (CDBG) de la Ciudad de Santa Ana para coordinar una serie de actividades que incluyen programación deportiva y clínicas de desarrollo de habilidades para los participantes, mesas de manualidades para niños más pequeños, así como clases de salud y bienestar. "Este programa piloto promueve actividades favorables a la familia durante los meses de verano, al tiempo que proporciona una alternativa positiva para reducir el crimen y la violencia", dijo el concejal Juan Villegas. Los jóvenes que participan en el programa Summer Night Lights tendrán acceso a una variedad de recursos comunitarios, tales como: exámenes de visión gratuitos, exámenes dentales gratuitos, talleres de salud y bienestar e información sobre actividades deportivas. "Estamos encantados de lanzar el programa Summer Night Lights como una forma de mantener a los jóvenes enfocados con modelos positivos y divertirse durante el verano. Summer Night Lights comienza en un parque, pero esperamos extendarlo en los próximos años ", dijo el concejal José Solorio.
Los jóvenes locales han sido contratados para ayudar con el programa y serán guiados por los líderes de Neutral Ground. Los jóvenes adultos tendrán la oportunidad de colaborar con el Departamento de Policía de Santa Ana para supervisar las entradas y salidas del parque y ayudar con las operaciones programáticas. Los jóvenes también recibirán entrenamiento para la tarjeta ServSafe Food Handler, lo que les permitirá servir adecuadamente los alimentos durante el evento, y obtener una certificación valiosa, que puede conducir a un empleo. Los participantes del programa Summer Night Lights obtendrán información importante sobre desarrollo juvenil, intervención de pandillas y prevención de violencia y habilidades de mediación.
"Invitamos a todos los jóvenes a participar en el programa Summer Night Lights. Además de disfrutar de las actividades, nuestros jóvenes pueden ayudar a formar este programa piloto, ya que nuestra esperanza es replicar este programa en otros lugares de la ciudad en el futuro ", dijo el concejal Benavides.
Los jóvenes que estén interesados en participar en el programa pueden inscribirse directamente en El Salvador Park comenzando el 12 de julio de 2018 a las 7 p.m., ubicado en 1825 West Civic Center Drive, Santa Ana 92703 o llamando al (714) 980-0953. Los voluntarios pueden inscribirse visitando: www.ngservices.org.