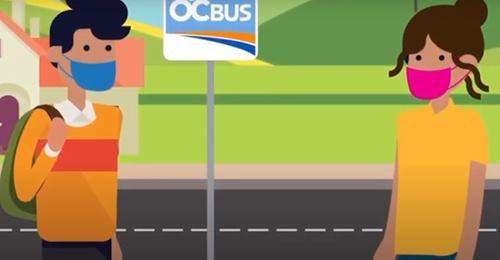 On January 31, the Transportation Security Administration issued a security directive that requires travelers to wear face masks while riding on or waiting for a bus, in addition to all other public transportation modes such as traveling on airplanes and trains. The directive is in support of President Biden's January 21, Executive Order regarding mask wearing to help prevent the spread of COVID-19.
Face masks have been required on OC Bus since May 2020. Now, a federal requirement also mandates that a face mask must be worn while waiting for and riding OC Bus as well as OC ACCESS, OC Flex and other public transit.
According to the federal directive, a scarf, handkerchief, or face shield is not acceptable. You must wear a face mask.
Please help protect yourself and your community by continuing to wear a face mask whenever you are waiting for or riding OC Bus, OC ACCESS and OC Flex.
Read the full federal requirement here.
OCTA continues to prioritize health and safety through enhanced bus cleanings, social distancing on board, free face masks and hand sanitizer stations on every OC Bus.
Signs at the front of buses and on board notify passengers that face masks are required. Learn more about OCTA's Covid-19 Safety Guidelines and Operations.
Thank you for your continued cooperation and patience. Together, we can ride safely.