The Santa Ana Literary Association will be presenting a new poem by a local poet every week this year. This week's poem is "How to Love a Body" by Stacy Russo.
HOW TO LOVE A BODY
You love a body
by watching
how it bends
or moves through the air.
You let go
and be present
with this gift.
Each body
holding within
a unique rhythm
it displays
for the beloved.
Witnessing movement is
body love.
You love a body
by praising
what the world
sees wrong with it
and saying to these parts,
that are not flaws,
but mysteriously and exceptionally you,
"Oh, look at your gorgeousness."
"You astonish me with your exquisiteness."
And kissing
all these parts
with your mouth, hands, or eyes.
Not judging is
body love.
You love a body
by protecting it
from comparison.
With comparison
a body becomes vulnerable
and its light
cannot shine.
Its breath
will get shallow.
Such a body hides
and cannot dance
the spectacular and luminous
dance it secretly
wants to perform.
Refusing to compare
is body love.
But loving a body
is not an easy thing.
It can take a lifetime
to love a body.
To love your body.
To love my body.
We can start practicing.
We know things are
stacked against us
if we really want to love
and admire
and cherish
and feel good
about how
we carry
our soul around.
Still, I believe
it's possible.
It's really about
a commitment
to the body.
Or you could
call it devotion.
This beautiful commitment
this act of heroic devotion
is body love.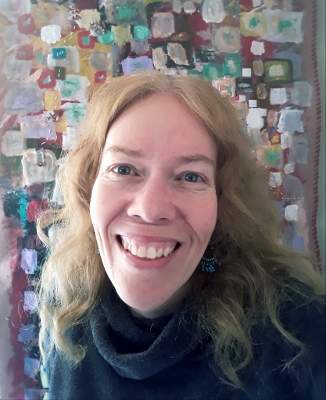 Stacy Russo is a poet, writer, and artist who is committed to creating books and art for a more peaceful world. She serves as librarian and associate professor at Santa Ana College. Stacy's books include Love Activism (Litwin Books), A Better Worlds Starts Here: Activists and Their Work (Sanctuary Publishers), We Were Going to Change the World: Interviews with Women from the 1970s and 1980s Southern California Punk Rock Scene (Santa Monica Press), and the poetry chapbooks Everyday Magic (Finishing Line Press) and The Moon and Other Poems (Dancing Girl Press). She is the author and illustrator of the children's picture books Poetry Hounds and the forthcoming Wild Librarian Bakery and Bookstore.