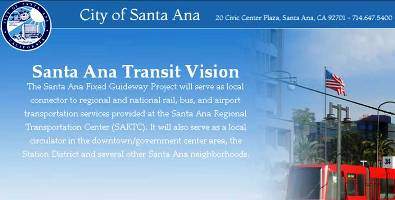 The City of Santa Ana has taken a huge leap forward with their redesigned website.  I am not sure who they hired to do the work but the new site looks terrific.
Kudos to Santa Ana City Manager Paul Walters, our City PIO (Public Information Officer) Jose Gonzalez,  and Mayor Miguel Pulido as well as any and all city staff who were involved in the city's website redesign.
There is even an "Open Government" page!  Here are the resources you will find there:
Transparency * Accountability * Participation
Welcome to the City of Santa Ana free access to information, budgets, reports and more!  We want you to have easy access to public information available.  The site is regularly being updated so please check back often.
»       City Council Meeting Schedule
»       Open Calendars ( release date, December 1st, 2012 )
»       Pre-Development Meeting information on major development projects
»       City Council Meeting Agendas and staff reports (96-hour advance notice)
Link to Agendas, Minutes and Video archive. 
Live broadcast of City Council meetings on cable TV (CATV3 Government Access, Channel 3) and web-streamed.
Agendas may be

translated

in multiple languages including Spanish, Vietnamese, Chinese, etc.
»      RFP's/RFQ's & Bids– Request for Proposals; Request for Qualification and Bid information
»      City Salary  (labor contracts included)
»      On-line property information
»      Report crime, graffiti, suspicious persons/activity, and write citizen police reports on-line
»      Santa Ana Municipal Code and Charter
»      Public Information Officer (contact information)
»      City of Santa Ana Sunshine Ordinance