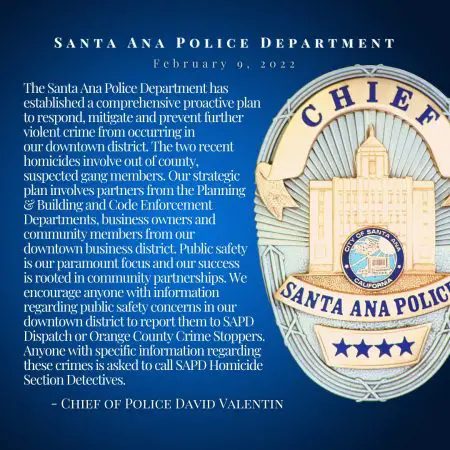 The SAPD's Chief of Police, David Valentine, addressed the growing gang violence in Downtown Santa Ana in a Tweet today.
Valentine noted that the SAPD has developed a comprehensive proactive plan to respond, mitigate and prevent further violent crime from occurring in Downtown Santa Ana.
Valentin also noted that the SAPD's Strategic Plan involves partners from the City of Santa Ana's Code Enforcement, Planning and Building Departments as well as local business owners and community members.
Valentine also requested that we report any information regarding public safety concerns in our downtown district to:
SAPD Dispatch (714) 245-8665
Orange County Crime Stoppers 1-855-TIP-OCCS
One question Valentine did not address is what are the businesses in DTSA doing that is attracting out of town gangbangers to the area? And could it be that the gangbangers are former Santa Ana residents who came back to town to visit friends or family only to get caught up in the usual gang shenanigans?