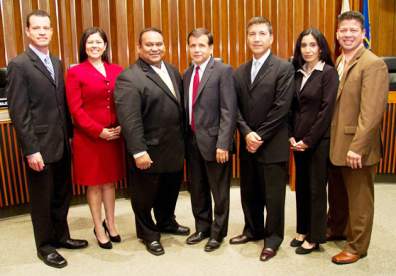 The David Benavides cabal on the Santa Ana City Council didn't wait long to show their true colors.  Their pals at the union-funded Voice of OC wrote that they "took another step Monday toward making good on their vow to strip Mayor Miguel Pulido of some of his power by taking away the mayor's authority to make council subcommittee appointments."  But what they really did was appoint themselves to all of the choice municipal commissions, thereby padding their paychecks.
Appointments included, courtesy of the Voice of OC:
Councilman David Benavides will head to the Orange County Sanitation District board, with Tinajero as the alternate.
Councilman Vincent Sarmiento was appointed to the Orange County Water District board, with Councilman Roman Reyna the alternate.
Tinajero was appointed to the Orange County Fire Authority board, with Councilwoman Angelica Amezcua the alternate.
And Martinez was appointed to the Foothill-Eastern Transportation Corridor Agency board.
Note that new Council Member Angelica Amezcua only got one assignment – as the alternate to Sal Tinajero on the O.C. Fire Authority Board.  But to be fair, new Council Member Roman Reyna is in the same boat, with one assignment as the alternate to Vince Sarmiento on the O.C. Water District Board.
Are any of these Council Members qualified to serve on these Commissions?  The only Council Member with an Engineering degree is Mayor Miguel Pulido.  Benavides is a realtor.  Reyna is apparently selling life insurance, according to his Linkedin Page.  Martinez is claiming on Facebook that she now works for the California State Senate.  She really has not distinguished herself in any one particular profession.  Tinajero and Amezcua are  both public school teachers.
The funniest appointment is the one that placed Michele Martinez on the Foothill-Eastern Transportation Corridor Agency Board.  They are currently dealing with the aftermath of a very negative state audit of the toll roads they oversee, which aren't making money and are having a hard time paying back their bonds.
Santa Ana has some of the highest water rates in Orange County even though we have a large aquifer right under our city.  What is Sarmiento going to do about that?  As a lawyer does he have a clue about water issues?
Wait – the even funnier appointment is Benavides getting appointed to the O.C. Sanitation District Board.  How fitting for him to be considering our sewage when he ran perhaps the most foul political campaign this year, in losing to Pulido, that I have ever seen in our city – his supporters disgraced themselves by going after Pulido's kids!
Well, good luck to this can't shoot straight bunch.  Let's hope their up to the task.