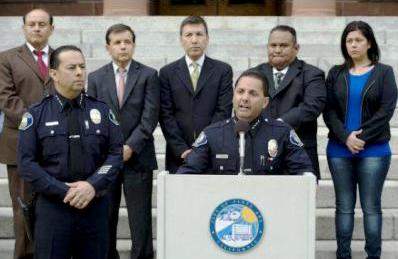 Santa Ana School Police Personnel have traveled to Connecticut as part of a State of Connecticut approved police delegation, along with police personnel from the LAUSD PD and LAPD for a two-fold mission: Support local law enforcement and the immediate community of Sandy Hook Elementary, according to the Santa Ana School Police Facebook page.
The Santa Ana School Police hope to obtain timely information for lessons learned from this tragedy, to provide their specialty school policing community amid the larger context of west coast law enforcement vital intelligence.
The Santa Ana School Police participated in a tribute to the victims and families of the Sandy Hook Elementary School today at 3 pm at the Old Orange County Courthouse.  Click here to watch the Fox News video of the event.