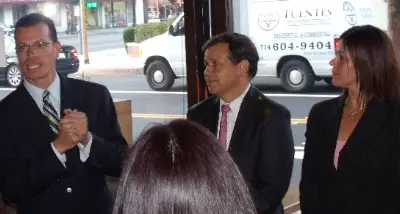 When OC Labor Political wannabe Julio (Wholio?) Perez held his fundraiser this month it turned into a reunion of the sad sacks who failed to elect Alfredo Amezcua last year, when he got thoroughly trounced by Santa Ana Mayor Miguel Pulido.  In stunning contrast tonight, Santa Ana Councilwoman Michele Martinez was ringed by the entire Pulido political machine – including Assemblyman Jose Solorio, who enthusiastically endorsed Martinez.  So what do you think?  Will the failed Team Amezcua beat Team Pulido?  LOL!  Not in our lifetime…
Martinez and her supporters met at Chapter One: the Modern Local, a newish restaurant over on Broadway and 3rd.  Santa Ana Council Members David Benavides, Vince Sarmiento, and Sal Tinajero showed up to publicly announce their support for Martinez – and so did several Santa Ana Planning Commissioners, including Eric Alderete, Sean Mill and Mario Turner.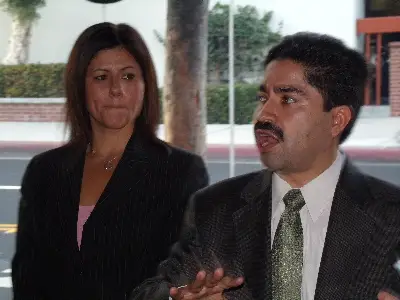 In a strange twist, Irvine blogger Dan Chmielewski showed up too.  He showed up late and did not donate to Martinez, but it was touching that he thought so much of Martinez that he brought his daughter along to meet her.  Chmielewski's photographer, Lou Delgado, was there too.  (Delgado told me that he is now under contract to Chmielewski's blog, the Liberal OC).  Delgado also told me that he was very disappointed by the insulting photo of Martinez that Chmielewski previously posted on his blog (he photoshopped her as the Jersey Shore TV character "Snooki").  I guess Chmielewski has had a change of heart regarding Martinez – good for him!  Perhaps he finally realized that the unknown Perez has no chance of beating Martinez.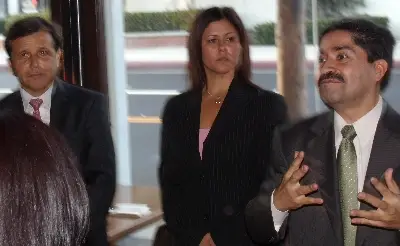 State Assemblyman Richard Hernandez (D-West Covina) also was on hand to show his support for Martinez.  That means a lot as Hernandez is part of Assembly Speaker John Perez' leadership team.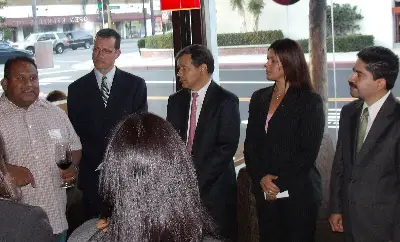 Other local officials and community leaders who were at the event in support of Martinez included former Garden Grove Councilman Mark Rosen; Rancho Santiago Community College District Trustee Mark McLoughlin; Santa Ana Housing and Redevelopment Commissioners Lynette Verino and Desi Reyes; Municipal Water District of Orange County Board Member Brett Barbre; former Santa Ana Mayor Dan Griset; and Santa Ana Environmental and Transportation Committee member Brian Bist.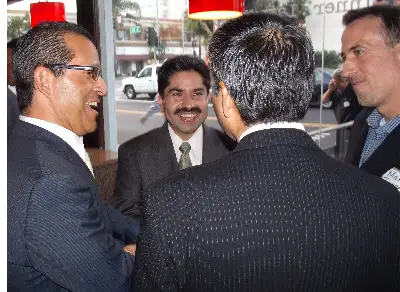 Martinez and her supporters spoke about the importance of electing someone from Santa Ana (I agree!) and about Martinez' passionate support for the community.  She focused on job creation – which is a real departure from Perez penchance for union-backed job destruction.   Martinez also spoke about her background, and how she grew up in difficult circumstances, without a mom or mentors.  This is what I find most endearing about her – she is a living example of what our young people, many of whom are in tough situations, can aspire to.
I am not sure how much she raised tonight, but some of the most powerful Pulido backers were there – and they willingly busted out their checkbooks.