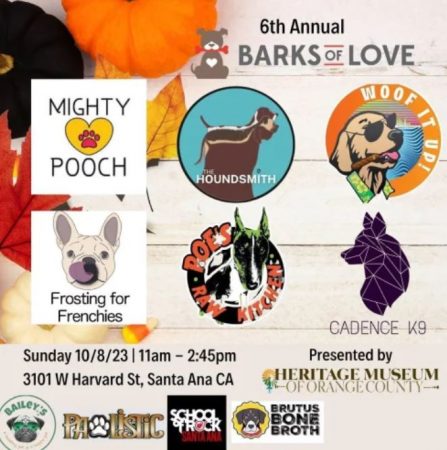 The Barks of Love 6th annual Bark Bash is set for Sunday October 8, from 11 a.m. to 2:45 p.m. at the Heritage Museum of Orange County, located at 3101 W Harvard Street, Santa Ana. For $5 you and your pup will get entry to the exclusive VIP area with games, a selficam and doggy cocktails served up by @brutusbroth 100% of all money raised from our Doggy Lounge will go to our rescue pups! 
There will be vendors, food, costume contest, photo opps, music, games, doggy trick or treating, rescue animals & more. With over 30 vendors and food options there is something for everyone!
Dogs can go trick or treating for $10 per dog. Entries limited!
Don't miss this fun event.
Sponsors:
@baileyscbd
@pawlistictreats
@brutusbroth
Barks of Love is recognized as a major resource for the welfare of abandoned and abused animals in Orange County and inland Empire, CA. Their goal is to lower euthanasia rates in all animal shelters. They provide their services in Orange County and the Inland Empire; however, they also extend their services to dogs in need from surrounding counties of Southern California when their available resources permit them to do so. They also rehabilitate and re-train dogs that are able to qualify for adoption. All dogs are kept in private foster homes where they receive the medical care and affection they require until a "forever home" is found that is deemed suitable by Barks of Love. The adoption process consists of screening applicants, dog "meet and greets", and a home check. At least 75% of the organization's time and effort is spent on rescue and rehabilitation.