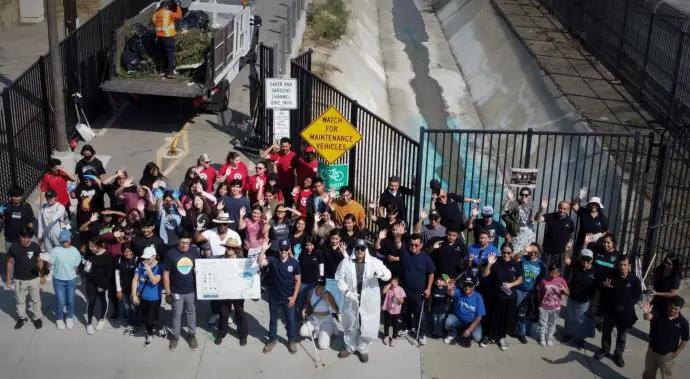 The City of Santa Ana's Public Works Agency coordinated an Inner-Coastal Cleanup Day event at Jerome Park on September 23, 2023.
Approximately 50 volunteers participated in the cleanup and removed an estimated 500 pounds of trash and debris from the Santa Ana Gardens flood control channel and adjacent alley, keeping that trash from flowing out to the ocean when it rains.
Please dispose of trash properly to help keep our city and waterways clean and beautiful! To learn more about storm water management and tips to protect the environment click here.
Tips to protect the environment
Do your part to protect the environment and improve water quality by following the tips below:
Always use a drip pan when performing vehicle maintenance to stop any automotive fluids from spilling onto your driveway, the street, or into the gutter. If you notice your vehicle is leaking fluids, fix it as soon as possible and clean up any leaks
Clean up pet waste and dispose of it in the trash
Check to make sure you are not over-irrigating your landscape and water is not flowing into the gutter
Take your car to the car wash! Car washes typically recycle their water and soapy water should not enter the City's storm drain system. If you do wash your car at home, use minimal water and biodegradable soap. Do not allow wash water to enter the street or gutter and instead direct it towards a landscaped area where it can absorb into the ground
Keep trash can lids closed to avoid litter being blown into the street or gutter
Sweep up landscape debris and put it in the appropriate bin for disposal
Always follow directions on pesticide labels and never use more than specified. Avoid applying pesticides prior to rain events
Avoid painting or applying roof sealants prior to rain events
Do not hose down or pressure wash sidewalks, driveways, or walkways. Instead, use dry cleanup methods such as a broom, or use minimal water and a mop. Do not allow wash water to flow into the street or gutter
Take unwanted household hazardous wastes such as paint, oil, pesticides, cleaners, and used batteries to one of Orange County's free disposal facilities. Visit www.oclandfills.com/hazardous for more information
Report illegal dumping and pollutant spills to the City's Public Works Agency by calling (714) 647-3380 or downloading the mySantaAna mobile application www.santa-ana.org/residents/mysantaana-app.