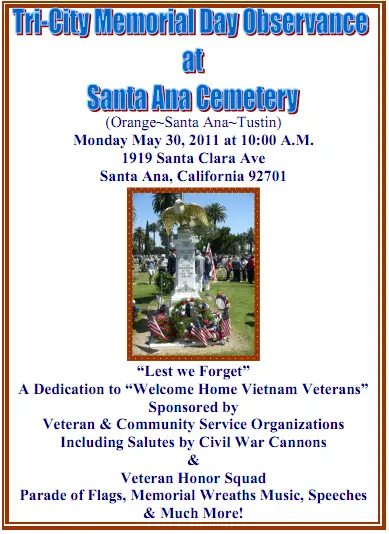 Santa Ana Cemetery and Fairhaven Park & Mortuary are once again celebrating Memorial Day with community events on Monday, May 30.
"Lest we Forget"-A dedication to "Welcome Home Vietnam Veterans" sponsored by veteran and community service organizations will be hosted at the Santa Ana Cemetery, on Monday, May 30.
The program includes salutes by civil war cannons and veteran honor squad parade of flags, memorial wreaths, music, speeches, and much more.
Title: Memorial Day Program – Santa Ana
From: Mon, May/30/2011 10:00 AM to 11 AM
Venue: Santa Ana Cemetery, at 1919 E. Santa Clara Avenue, in Santa Ana
Welcome Home Vietnam Veterans, A Tribute to all our Fallen Comrades
"Lest We Forget"
Feature Speaker:
Billy C. Hall, Major Retired, U.S. Army
Veteran of WWII, Korean War and Vietnam War
Rep. Loretta Sanchez will also speak and attend this Memorial Day Service.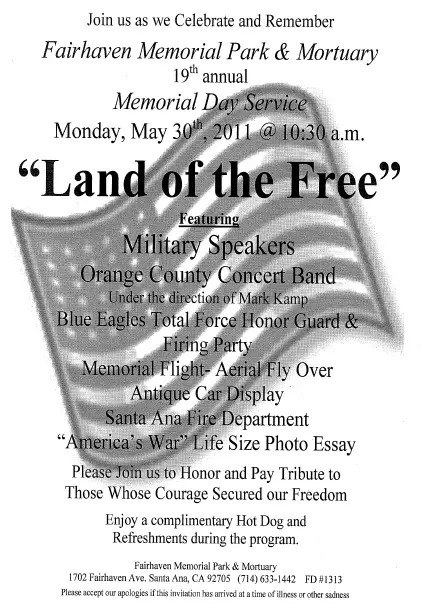 Fairhaven Park & Mortuary is also having a Memorial Day service.  Here is the event invitation:
Join us as we Celebrate and Remember at the 19th Annual Fairhaven Park & Mortuary Memorial Day Service
Monday, May 30th, 2011, at 10:30am
"Land of the Free"
Featuring:
Military Speakers
Orange County Concert Band, under the direction of Mark Kamp
Blue Eagles Total Force Honor Guard & Firing Party
Memorial Flight – Aerial Fly Over
Antique Car Display
Santa Ana Fire Department
"American's War" Life Size Photo Essay
Please Join Us to Honor and Pay Tribute to Those Whose Courage Secured our Freedom
Enjoy a complimentary Hot Dog and Refreshments during the program.
Please accept our apologies if this invitation has arrived at a time of illness or other sadness.