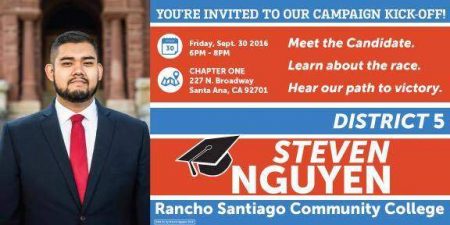 Steven Nguyen is launching his campaign for District 5 of the Rancho Santiago Community College District with a campaign kickoff on Friday, Sep. 30, 2016, from 6 p.m. to 8 p.m. at Chapter One, located at 227 N. Broadway, in Santa Ana.
Nguyen was born in Santa Ana, CA, he is of Vietnamese, Mexican, and American heritage. His dad, Hugh Nguyen, is the O.C. Clerk-Recorder. 
As a strong supporter of small government, Nguyen believes in fiscal responsibility, free markets, and individual liberty.