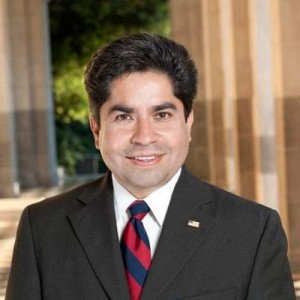 For Immediate Release: January 17, 2014
For More Information Contact: Maricela Taylor – mobile: (714) 794-8431
STATE SENATE PRO TEM DARRELL STEINBERG & SUCCESSOR SENATOR KEVIN DE LEON ENDORSE JOSE SOLORIO FOR STATE SENATE AND SAY THE 34TH DISTRICT RACE IS A "TOP CANDIDATE PRIORITY"
Sacramento, CA – State Senate Pro Tem Darrell Steinberg has endorsed Community College Trustee, and former State Assemblyman, Jose Solorio in his campaign bid for the open 34th State Senate district seat in Orange County and Long Beach. Steinberg plans to make the race a Senate Democratic Caucus top candidate priority for this 2014 election cycle.
The 34th State Senate district includes all or parts of the communities of Anaheim, Fountain Valley, Garden Grove, Huntington Beach, Long Beach, Los Alamitos, Rossmoor, Santa Ana, Seal Beach and Westminster.
"Jose Solorio will bring a significant amount of knowledge of his community and experience with him to the State Senate," said Pro Tem Steinberg. "As a former City Councilman in Santa Ana, former State Assemblyman, and presently a Community College Trustee, he will hit the ground running in Sacramento. It's vital that the Senate Democratic Caucus and our friends from around the state invest in this important election that will be among the most hotly contested in California. The 34th Senate District is a Democratic seat and we're making it a top priority to keep it that way."
This week, Steinberg and the Senate Democratic Caucus tapped Senator Kevin de León to be the next leader of the State Senate. De León is another prominent state official to also endorse Solorio for Senate. "I enjoyed working together with Jose Solorio in the State Assembly," said Senator De León. "His strong work ethic and extensive policy expertise makes him an excellent candidate and, clearly, the most suitable representative for the Orange County/Long Beach Senate District."
Solorio has already received a number of endorsements from local city leaders, including Huntington Beach Mayor Pro Tem Joe Shaw and Council Member Connie Boardman, Garden Grove Mayor Bruce Broadwater, Santa Ana Mayor Miguel Pulido, and Anaheim Council Member Jordan Brandman.
In addition, Solorio has garnered support and endorsements from numerous statewide public safety and labor organizations including:
Association for Los Angeles Deputy Sheriffs
California Association of Highway Patrolmen
California Nurses Association
California School Employees Association
California State Council of Laborers
Carpenters Union, Local 803
Communications Workers of America – Southern California Council
International Brotherhood of Electrical Workers, Local 441
Ironworkers Union, Local 416
Ironworkers Union, Local 443
Laborers' Union, Local 652
Peace Officers Research Association (PORAC)
Service Employees International Union (SEIU) California
Teamsters, Joint Council 42
United Association, Local 250
"I'm grateful and pleased to have the early and strong support of the Senate Democratic leadership and these important organizations," said Solorio. "I appreciate their confidence in me and am looking forward to working with them in Sacramento to benefit our community."
Community College Trustee Jose Solorio is the President of the Board of Trustees for the Rancho Santiago Community College District, which oversees Santa Ana College and Santiago Canyon College, and represents 700,000 residents in the cities of Anaheim, Garden Grove, Irvine, Orange, Santa Ana, Tustin, and Villa Park. Prior to that, he represented the cities of Anaheim, Garden Grove and Santa Ana in the State Assembly for six years. He holds a bachelor's degree from UC Irvine and a master's degree in public policy from Harvard University.
###