There is no question that Santa Ana Mayoral candidate Claudia Alvarez has the experience be able to handle the Santa Ana Mayor's job. The question however is whether her temperament will get in the way.
Nine years have passed since Alvarez has to apologize after she compared downtown property owner Irving Chase, who is Jewish, to Adolf Hitler. Alvarez, at the time, was upset about special property tax that funds that Downtown Inc. — the organization that promotes, secures and cleans up the downtown core, were charging to local merchants. She had a point about that tax – we opposed it as well. But Alvarez could have found a way to voice her displeasure with that tax without dredging up Hitler (as seen in the video below at 15 minutes and 12 seconds). But time and again this is the sort of behaviour we have come to expect from her.
Alvarez may have ended up this crusty because she played the role of attack dog for so many years as part of Santa Ana Mayor Miguel Pulido's cabal. Pulido, famously, does not like confrontation. So he often relied on Alvarez to be the bad cop. And she appeared to relish that role. But bad cops don't make good Mayors.
Santa Ana needs a Mayor who has thick skin and who can represent all of us. Alvarez? She walked out on a candidate's forum at the local NAACP when she got a few boos.
Here is Alvarez cutting off residents who are trying to speak up at a City Council meeting.
Fortunately we have quite a few other choices in this year's Santa Ana Mayor's race. Let's look at the rest of the candidates.
Several of my best sources shared with me this week that a poll had been conducted, allegedly by the Santa Ana Police Officers' Association, regarding the Santa Ana Mayoral candidates. The aforementioned Alvarez came in second in that poll. Guess who came in first? If you guessed former Santa Ana City Councilwoman Ceci Iglesias you are correct!
Disregard Iglesias at your own peril. While the Santa Ana Police Officers Association was able to recall her a few months ago that was a low voter turnout Special Election. The November election will be a Presidential election – and voter turnout will be high, even here in Santa Ana. That favors Iglesias, who has a large base of support in our city, primarily in the faith community.
Iglesias is also one of the only immigrants running for office in Santa Ana this year. And she is the only fiscal conservative on the mayoral ballot who has actually had significant electoral experience, as a former SAUSD Trustee and Santa Ana City Council Member.
Iglesias also enjoys broad support from local progressives who appreciate that she did not vote to give the Santa Ana police officers a huge raise – when our city is in such financial straits.
There are also two current Santa Ana City Councilmen running for Mayor. And they actually have a significant political connection.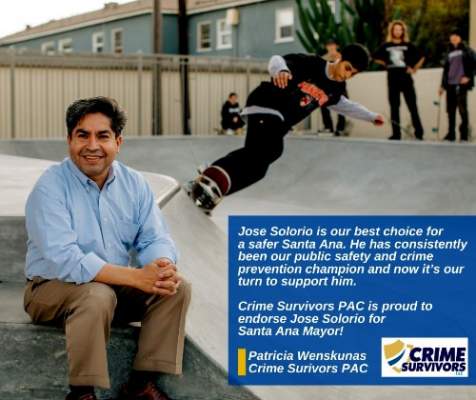 When Jose Solorio was elected to the California State Assembly he had to vacate his seat on the Santa Ana City Council, back in 2006. Guess who was appointed to fill out his term? It was Vince Sarmiento – and now they are both on the City Council together and are both running for Santa Ana Mayor.
Solorio has had a lot more political success than Sarmiento. Solorio served several years in the State Assembly before he was ultimately termed out. He tried to take out then State Senator Janet Nguyen in 2014 but failed. Solorio was however able to get elected to the City Council again in 2016, in Ward 3.
Mayor Pulido has always had major connections in Sacramento and in D.C. Of all the mayoral candidates that are vying to replace him, Solorio comes closest to having similar contacts. In fact I believe Solorio may have an even higher profile in the national Democratic Party than Pulido.
Solorio remains a business-friendly moderate. Those are exactly the sort of qualities we need in a new Mayor. Remember that the Santa Ana Mayor is a part-time position – and the Mayor cannot really accomplish anything without garnering at least four votes from the City Council Members. Solorio is smooth enough to be able to do that.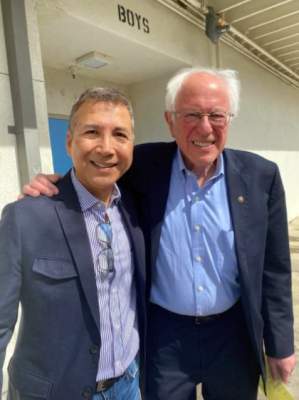 Sarmiento, on the other hand, started out as a moderate back when he was first appointed to the City Council. Today he is a Berniecrat, having tied himself to the Socialist former Presidential candidate Bernie Sanders.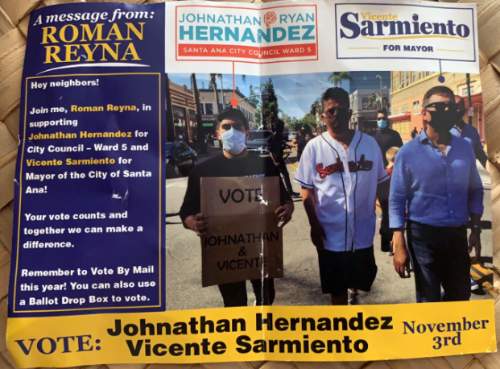 Sarmiento is also tied to former Santa Ana City Councilman Roman Reyna, who is now a convicted felon after botching his last campaign and being forced off the City Council. Reyna has been backing Sarmiento along with a few of the City Council candidates (Tony Adame and Johnathan Hernandez).
It is amazing that Sarmiento is running for Mayor given how close his last two City Council elections were. In 2016 Sarmiento garnered 36,486 while his opponent, the completely unknown Jessica Cha, ended up with 29,183 votes. In 2012, Sarmiento ended up with 27,289 and while his opponent, the thoroughly unknown Estela Amezcua, ended up with 25,230 votes.
Sarmiento barely beat two unknown opponents in 2012 and in 2016 and now he wants to be Mayor? It seems a bit of a stretch.
There are two additional mayoral candidates:
Collins has been active in the city for many years. He often videotapes meetings and makes them available to the public. He is not mounting much of a campaign but I spoke with him recently and he figures he might do well just by getting votes from voters who are not enamoured by the other candidates.