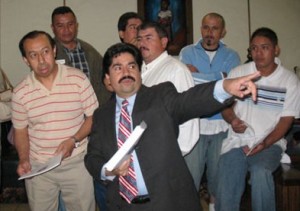 Assemblyman Jose Solorio chose not to run against Supervisor Janet Nguyen in November, but he announced this afternoon, via email, that he is running for Area One of the Rancho Santiago Community College District's Board of Education.
Solorio's wife is a public school teacher, I believe at Santa Ana's Valley High School.  This would seem to be a good fit for him but it is a part-time job.  He has not yet announced what his other employment plans will be.
One  hangup for Solorio is that he voted in the past year to de-fund the County of Orange to the tune of about fifty million per year.  He was promised by Assembly Speaker John Perez that the State Legislature would find a way to return that money to the County of Orange.  That never happened and the County ended up in a lawsuit with the State of California.  If the State prevails the money will have to come out of the County's education budget.
Solorio also has to deal with anger from Latino activists as he openly backed Tom Daly to replace him in the 69th Assembly District, one of the most Latino districts in the State of California.  Organized labor officials in particular are peeved with Solorio.  The bottom line – because of Solorio, Santa Ana will not be represented in the Assembly by a Latino and to make matters worse our representative will be one of two Anaheim residents – Daly or Republican nominee Joe Moreno.  And now Solorio is running for a college board located in…wait for it…Santa Ana.  Good luck with that Jose!
There is some good news for Solorio.  According to the OC Political blog, "There is no incumbent, as the RSCCD board recently switched from a multi-member three-area at-large election system to a vote-by-area system, but drew three incumbents into Area 5, with Brian Conley choosing to retire in June, leaving David Chapel and Mark McLoughlin to duke it out in Area 5."
But OC Political also reported that "Santa Ana LULAC President Zeke Hernandez is rumored to be Solorio's top challenger."  It is hard to take him seriously but labor money could put him in play.
Here is Solorio's email announcement:
Dear Friend,
I want you to be one of the first to know that today I pulled papers to run for the open seat on the Rancho Santiago Community College District Board of Trustees, District One.
As you know, education has always been a priority of mine. It's been the key to my success. A quality college education is what has given me and countless others the opportunity to reach our dreams. It's also why I started our Solorio Scholars program. Our community colleges are a vital part of our system of higher education.
If elected this November to our local Community College Board, I will continue to fight to keep Santa Ana College and the rest of the district accessible and affordable.
I will share my campaign issues with you in the weeks ahead. In the meantime, I look forward to hearing from students, faculty, classified staff, administrators, and community and business leaders on ideas to move our community college district forward.
Sincerely,
Jose Solorio
State Assemblyman