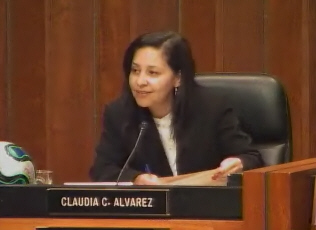 Tonight's Santa Ana City Council meeting, which was held at the SAPD's Community Room, was, as predicted, a real zoo.  Media vans and news crews were everywhere and residents and out of town bloggers packed the proceedings.
As we stated in an earlier post, Council Member Carlos Bustamante, who is facing serious felony sex crime and public theft charges, was not likely to show up, and he didn't.  This is his second unexcused absence.  After sixty days of not showing up to work, at City Hall, the City Council can dump him and appoint someone to fill out his term.
Three City Council members — Michele Martinez, Sal Tinajero and Vince Sarmiento — have called for Bustamante's resignation, according to the L.A. Times.  Predictably Bustamante's longtime ally, David Benavides  is not calling for Bustamante's resignation.  Is anyone surprised by that?  Bustamante and Benavides flew to Washington D.C. together, back in the day, to attend a Cinco de Mayo event put on by past President George W. Bush.  They were pals and together they served at the whim of the Usual Suspects.  Why would Benavides turn on his amigo now?
The Santa Ana City Council agreed tonight to form an Ad Hoc Committee to explore the term limit issue raised by Martinez, who placed the term limit issue on tonight's agenda as an 85 A item.  The Ad Hoc Committee will include Martinez and her colleagues Sarmiento and Benavides.  They have to get a ballot measure hammered out by the next City Council meeting if they want to make the November ballot.
As expected, the Usual Suspects showed up to rip Mayor Pro Tem Claudia Alvarez, but she let them have it, and then pointed out that Councilman David Benavides "had invited speakers to address the council on the lawsuit over Measure D, while pointing our reports of attacks on her by Benavides and Bustamante," according to the O.C. Register.  Of course we appreciated the referral!
And what is going on?  Well, if the lawsuit filed by Santa Ana Parks and Rec Commissioner Max Madrid succeeds, then the Santa Ana City Clerk will be compelled by the Court to give nomination papers to Alvarez.  She will then run for Ward 5 and win, period.  I fully expect SAUSD Trustee Roman Reyna to run for reelection to the SAUSD School Board rather than face off with Alvarez, who already spanked him once in a previous Council election.  I am already seeing Reyna political signs around town – and they don't mention the office he is running for.  LOL!  That Reyna is so thrifty.  He printed one batch of signs that he can now use for either race.
We revealed yesterday that the only announced opponent to Alvarez, Karina Onofre, has in fact become a registered Republican.  She was also at tonight's meeting, where she bragged that her Council campaign now has a billboard, somewhere on Main St.  Apparently Santa Ana Council Member Sal Tinajero met with her earlier this year and he advised her to run instead for the SAUSD School Board.  He even offered to back her.  But she stubbornly refused to do so and instead she dumped the Democratic Party and became a Republican.  Good luck with that…