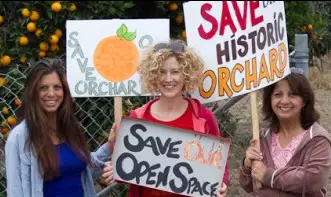 There will be another "Save Our Orchard" demonstration this Saturday, August 13th, 2011 from 10am – 2pm.
Also, the activists who are fighting to stop development at the site of the Sexlinger Orchard will be formally introducing the Save Our Orchard Coalition to the City Council this coming Monday, August 15th at 5:30pm at the City Council Meeting.  
They are hoping for a large turnout this weekend to show the Council that there is a strong voice that wants to preserve this orchard.
SOOC sent out a proposal for an alternative vision of the orchard earlier this week. You can find this document on their website by
clicking here
.