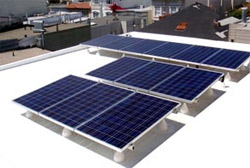 Santa Ana Unified School District Announces Completion of the Largest Solar Project in Orange County
SANTA ANA, CA — October 27, 2010 — The Santa Ana Unified School District (SAUSD) announces the completion of a solar and energy efficiency project at Saddleback High School. This is the largest solar project of its kind in all of Orange County. On Saturday, October 30 at 11:00 a.m., officials of the Santa Ana Unified School District will "Flip the Switch" on an 800 kilowatt rooftop solar energy system. This newly installed solar system will supply the high school with about 75 percent of its electrical needs.
The $5.8 million solar project will dramatically reduce the school's carbon foot print, create jobs and provide the school district $3 million in energy cost savings over the next five years, according to Joe Dixon, Assistant Superintendent for Facilities. That would free up an estimated $600,000 a year that can be applied to the school district's general fund.
"We are proud to produce a project with dual results: energy savings to the District and an opportunity to educate our students about the benefits of renewable energy and green technology," said Dr. Audrey Yamagata-Noji, President of the SAUSD Board of Education.
The project also involved replacing the entire roof and air conditioning units with new energy efficient systems. Additional support for the solar project came from Chevron Energy Solutions that designed, engineered and constructed the solar and energy efficiency improvements. The total project cost was $12.5 million with funding from a variety of sources, including Federal stimulus funding, State Emergency Repair funds, and Measure G — a local general obligation bond approved in 2008 by nearly 69% of the voters.
In addition to the energy savings, the project will have an educational component. An informational kiosk at the school will provide students with informational updates and inform students about the advantages of renewable energy and the more than 1,000 tons of carbon that the clean energy system will eliminate each year from the environment.
The public is invited to help school district officials activate the pioneering solar system at Saddleback High School, 2802 South Flower Street in Santa Ana on October 30 at 11:00 a.m. An Environmental Expo will be held after the dedication. Free electronics recycling will be available from 10:00 a.m. to 3:00 p.m.
###