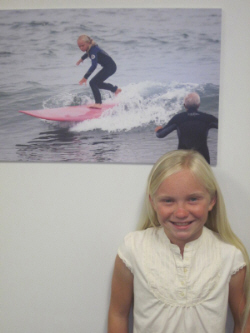 FOR IMMEDIATE RELEASE
Media Contact: Connect Your Home
social@connectyourhome.com
CONNECT YOUR HOME RAISES FUNDS FOR CFF THROUGH CAUSE DONATION PROGRAM
Portion of Cause Donation Program Sales Contributed to Cystic Fibrosis Research
SANTA ANA, CA, (July 7, 2010) – Connect Your Home, a leader in providing consumers with affordable home services, continues to support charitable causes in the community through its Cause Donation Program. In partnership with the Cystic Fibrosis Foundation (Orange County Chapter) during Cystic Fibrosis Awareness Month in May, Connect Your Home helped raise $1,300 towards finding a cure for the life shortening disease. Connect Your Home donated a portion of each new sale transaction from satellite TV and home security monitoring services directly to the CFF local Orange County chapter in Anaheim.
"We are so thankful for Connect Your Home and their partnership in our fight against Cystic Fibrosis. $1,300 raised in just the month of May is amazing and that money will be invested in the critical research we need to find a cure for this disease," said Mike Shumard, executive director of CFF, Orange County Chapter.
Connect Your Home continues to support local and national non profit organizations through its Cause Donation Program. While Connect Your Home decides on a new charitable cause to partner with each month, the company has also offered support to CFF in the past from participating in local Great Strides walks to speaking at conferences in an attempt to educate the public and potential donors about the disease which affects 30,000 people in the United States alone. Connect Your Home is especially close to the CF cause because of an employee tie to the disease. Lindsay Ross, Connect Your Home's director of human resources, fights every day to help find a cure for her daughter, Taylor, who is affected by Cystic Fibrosis. You can read about Lindsay's story by visiting the Connect Your Home Blog.
"The participation of Connect Your Home in providing funding to CFF is the reason that I am able to give my daughter the best medications on the market. I am more hopeful than ever before that a cure will be found in Taylor's lifetime," said Lindsay Ross, director of human resources at Connect Your Home.
Connect Your Home's Cause Donation Program also featured the Susan G. Komen Foundation during Breast Cancer Awareness Month in October of 2010. In total, the Cause Donation Program has helped raise just under $3,000 for the two foundations who have partnered with Connect Your Home in the past. To participate in this month's Cause Donation Program, visit Connect Your Home online or call 888-338-8918. For those interested in learning more about how you can submit your non profit organization to be considered as a future participant in the Connect Your Home Cause Donation Program, please contact social@connectyourhome.com.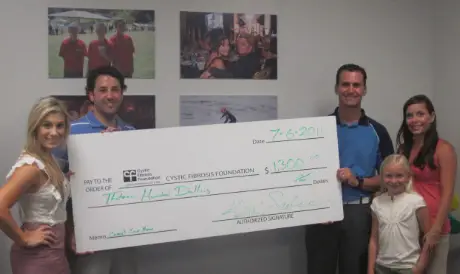 (Pictured left to right: Jessica DeFilippo – Social Media Coordinator, Kevin Scobee – Cause Donation Program Manager, Mike Shumard – Executive Director CFF OC, Taylor Ross – CF Patient, Lindsay Ross – Direct of HR at Connect Your Home and Taylor's mom)
Connect Your Home is based out of Santa Ana, California serving customers nationwide by offering the best priced home services from the top national and local service providers. A self-proclaimed home concierge service, Connect Your Home is able to quickly and efficiently provide affordable and convenient home services to new and existing homeowners who are looking for a one stop shop to connect all of their home communication needs. Consumers can trust Connect Your Home to work with companies like Dish Network, Time Warner Cable, AT&T
U-Verse, ADT – Protect Your Home and more to bring you the latest promotions and discounts available in their local area.
###