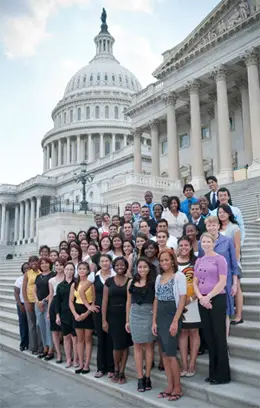 NEWS RELEASE
Contact: Will Shanley, United Health Foundation, 714-204-8005
NINE CALIFORNIANS, INCLUDING SANTA ANA'S MATTHEW VAZQUEZ, WIN UNITED HEALTH FOUNDATION SCHOLARSHIPS TO PURSUE HEALTH CARE CAREERS
Scholarship Winner Vazquez Participated in Third Annual "Young Minds, Bright Futures" Forum in Washington, D.C.
SANTA ANA, Calif. (July 7, 2011) – Nine California residents, including Matthew Vazquez of Santa Ana, have won scholarships from United Health Foundation's Diverse Scholars Initiative to pursue a career in health care.
Vazquez, who is studying exercise science and entrepreneurship at Cal State University Long Beach, hopes to one day own a health studio that caters to low-income individuals and families. Other scholarship winners from California include Nedra Chijioke of Corona, Francisco Hernandez of Signal Hill and Erica Tiscareno of San Diego.
"As an exercise science student, I know how difficult it could be for individuals to manage and create a regimen to suit their fitness and nutrition goals, so I plan to offer my services to combat these issues," said Vazquez. "I hope to voice the importance of a healthy lifestyle and make it easier and more affordable for people to access to these services."
United Health Foundation's Diverse Scholars Initiative, through its partner organizations, is awarding a total of $1.2 million in scholarships for the upcoming academic year to more than 200 students from diverse, multicultural backgrounds. This is part of the Foundation's ongoing commitment to build a more diverse health care workforce.
The scholarships, averaging $5,000 per student, focus on African American, American Indian, Asian American and Latino and Hispanic students who plan to pursue careers in health care. Vazquez's scholarship will be administered by the Congressional Black Caucus Foundation.
Since 2007, United Health Foundation has awarded nearly 800 scholarships benefiting students across the nation, committing more than $4 million to the initiative.
"Research shows that when patients are treated by health professionals who share their language, culture and ethnicity, they are more likely to accept and receive medical treatment. Through these scholarships we are encouraging diverse, multicultural students to continue their education and become health care professionals who will help expand and enhance health care services, particularly in underserved communities. These outstanding scholars truly represent the rich diversity of our country," said Kate Rubin, president, United Health Foundation.
United Health Foundation hosted its third annual Diverse Scholars "Young Minds, Bright Futures," Forum in Washington, D.C. during late June to recognize and celebrate the awardees and inspire them to work toward strengthening the nation's health care system. This year's event will provide an opportunity for the talented, young future health care professionals to meet and interact with members of Congress and experts and leaders from a variety of health care fields.
The forum included an informational panel of health experts and a breakfast reception on Capitol Hill Wednesday the 22nd. Panelists for "Innovations in Chronic Disease Care and Prevention" include Deneen Vojta, M.D., Senior Vice President, UnitedHealth Center for Health Reform & Modernization; Felipe Lobelo, M.D., Ph.D., Epidemic Intelligence Service (EIS) Officer, Centers for Disease Control and Prevention (CDC); Amina Farhadi, Reproductive Justice Fellow (LSRJ), Asian & Pacific Islander American Health Forum; and Mona Shah, Associate Director, Federal Relations, American Cancer Society.
Diverse Scholars Initiative Seeks To Enhance Culturally Competent Health Care
The goal of the Diverse Scholars Initiative is to increase the number of qualified, yet underrepresented, college graduates entering the health workforce. By cultivating health professionals from diverse, multicultural backgrounds, United Health Foundation hopes to increase culturally competent health care delivery, close the health disparities gap and improve health outcomes over the long term.
The program is administered through partnerships with a variety of nonprofit and civic organizations. While United Health Foundation does not influence recipient selection, scholars must demonstrate financial need, the pursuit of a degree that will lead to a career in a health field, and a commitment to working in underserved communities, including community health centers. Additional requirements and application deadlines vary by organization.
The organizations are experienced in scholarship administration and have reputations for achieving excellence with these programs. They also have the ability to identify and engage with students who are most in need of financial support. The Diverse Scholars Initiative partner organizations include:
Diverse Scholars Initiative partner organizations include: American Indian College Fund; Asian & Pacific Islander American Scholarship Fund; Auxiliary to the National Medical Association; California Hispanic Chamber of Commerce; Congressional Black Caucus Foundation; Congressional Hispanic Caucus Institute; Hispanic Association of Colleges & Universities; Hispanic College Fund; Hispanic Scholarship Fund; Hispanic Women's Network of Texas; Jackie Robinson Foundation; National Black Nurses Association; National Association of Hispanic Nurses; National Hispanic Health Foundation; National Medical Fellowships, Inc.; South Florida Hispanic Chamber of Commerce Foundation, Inc.; Tavis Smiley Foundation; Thurgood Marshall College Fund; Tom Joyner Foundation; and United Negro College Fund.
For more information about the Diverse Scholars Initiative, click here.
United Health Foundation
Guided by a passion to help people live healthier lives, United Health Foundation provides helpful information to support decisions that lead to better health outcomes and healthier communities. The Foundation also supports activities that expand access to quality health care services for those in challenging circumstances and partners with others to improve the well-being of communities. Since established by UnitedHealth Group [NYSE: UNH] in 1999 as a not-for-profit, private foundation, the Foundation has committed more than $187 million to improve health and health care. For more information, visit www.unitedhealthfoundation.org.
# # #